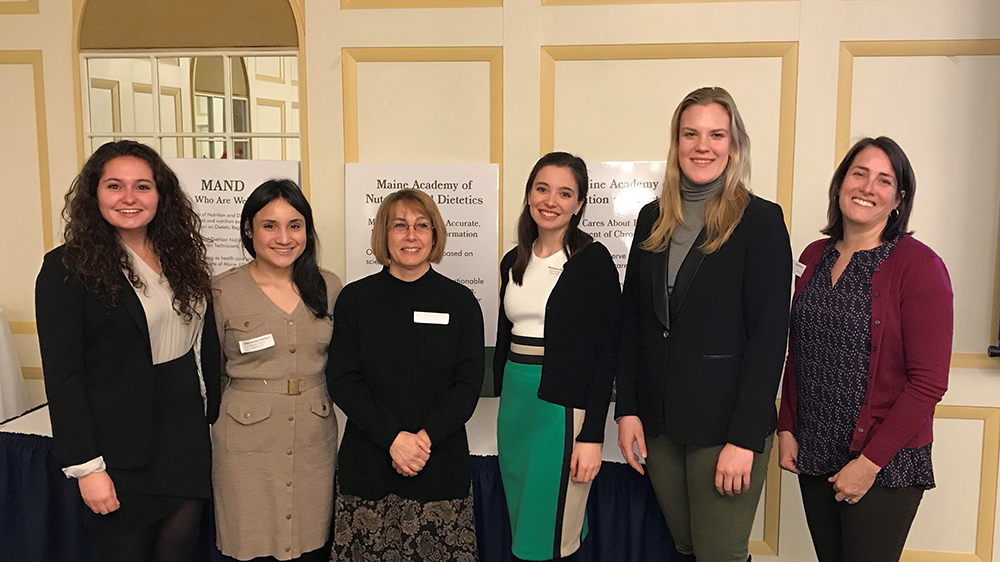 UMaine dietetics students feed lawmakers minds
Graduate students in the University of Maine's Food Science and Human Nutrition Program and Dietetic Internship took their expertise to Augusta this winter to help Maine's legislators make informed decisions regarding nutrition policy.
Emily Duran-Frontera, Anna Wright, Elizabeth Kowash, and Mackenzie Clapp culminated the communication effort by helping to host the Maine Academy of Nutrition and Dietetics Legislative Breakfast in Augusta on March 22.
"The UMaine Dietetic Internship offers students a concentration in public policy that teaches them how to advocate for nutrition-related issues," said Mona Therrien, who directs UMaine's Dietetic Internship program.
"Raising awareness of nutrition among our legislators is important as many of the programs that employ our graduates and provide Mainers with essential nutrition education and intervention are publicly funded."
The UMaine Dietetic Internship serves Maine's need as the only program in the state accredited by the Accreditation Council for Education in Nutrition and Dietetics (ACEND). Graduates are prepared to become Registered Dietitian Nutritionists and are eligible to sit for the National Registration Examination. UMaine graduates have a high passage rate for the National Registration Exam and are employed readily within the field of dietetics.