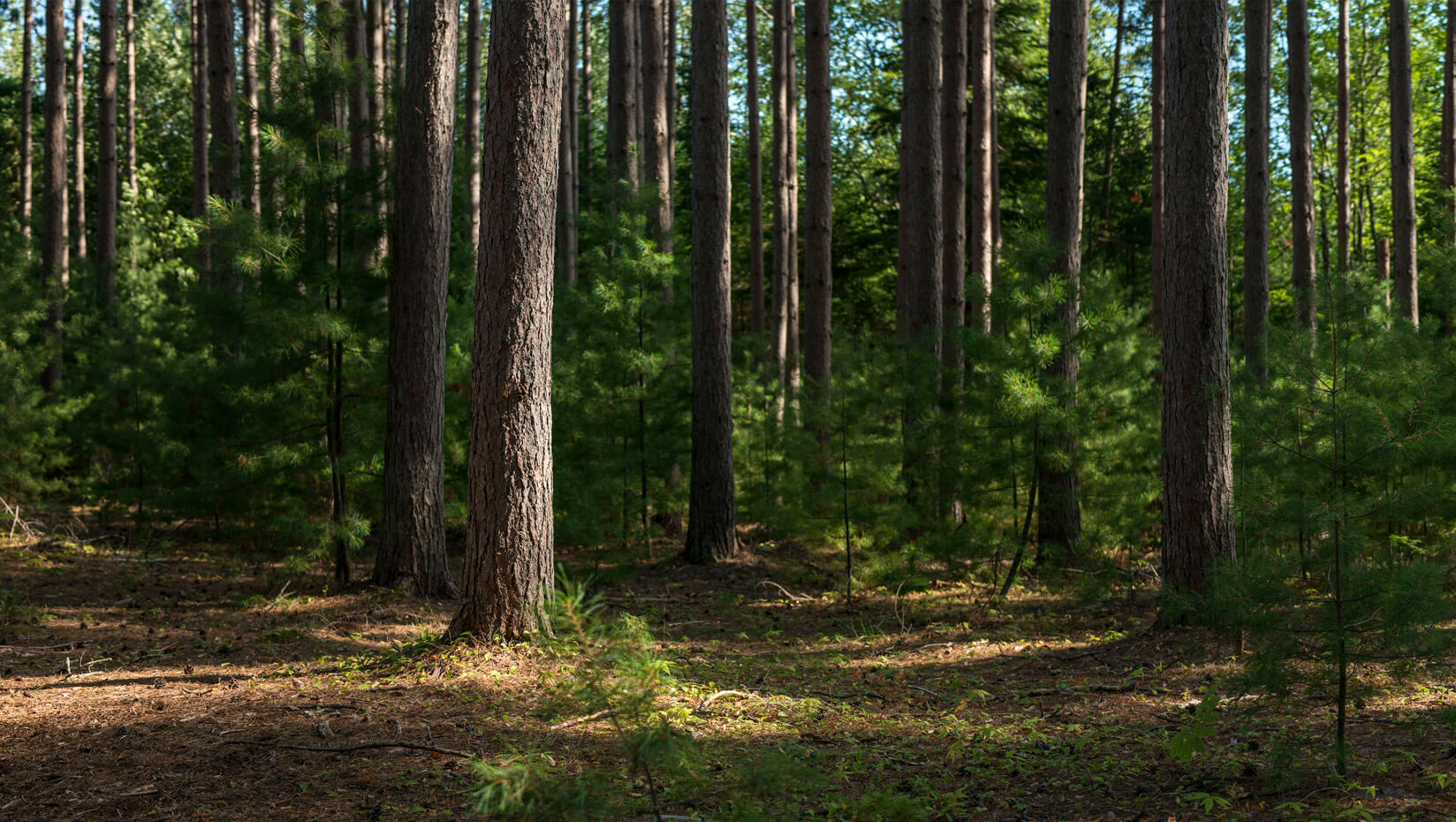 Faculty collaborate to effectively teach core biology concepts
Each year, Maine's forest industry harvests 6 million to 7 million cords of wood to build homes and make furniture, paper and other products. Which of the following processes contributes the most to the increase in timber biomass?
That's a question developed for students in biology courses on six University of Maine System campuses.
The choices:
absorption of mineral substances from the soil via the roots
absorption of organic substances from the soil via the roots
incorporation of CO2 gas from the atmosphere into molecules by leaves
incorporation of H2O from the soil into molecules by green leaves
absorption of solar radiation into the leaf
When participating introductory biology students first answered this question, 25 percent clicked on the correct answer (included at the bottom of this article).
Biology faculty from six University of Maine System campuses identified this and other concepts that students commonly misunderstand involving the roles that light, energy, carbon dioxide and nutrients have with photosynthetic organisms.
To help undergraduates learn the concepts, faculty collaboratively developed a 75-minute lesson and taught it in introductory biology courses at six campuses. The activity includes clicker and discussion questions and activities about trees and other regionally economically relevant photosynthetic organisms, including potatoes and kelp.
After discussion and a video, 92 percent of students chose the correct answer.
Students demonstrated knowledge gains both in the short term with clicker questions and pre/post-testing, and in the long term on final exams, says Michelle Smith, an innovative UMaine science educator and the project's primary investigator.
Smith is the C. Ann Merrifield Professorship in Life Science Education, an associate professor in the School of Biology and Ecology, and member of the Maine Center for Research in STEM Education (RiSE Center).
Understanding and building on such key energy and matter concepts in subsequent courses is important, says Smith.
"This project was a fantastic opportunity to collaborate with faculty throughout the state," says Smith. "We were able to identify a concept our students were struggling with and use a data-driven approach to make a difference in student learning."
In addition, faculty members were able to discuss locally important industries such as aquaculture, forestry and agriculture, as well as to grasp globally relevant issues, including rising atmospheric carbon dioxide.
For instance, it takes 245 pine trees to offset the annual carbon footprint of an average household's energy usage in the U.S. This, says Smith, stimulates conversation when students begin to think about their energy usage in terms of numbers of trees.
In prior research, Smith found that actively engaging college students in STEM classes increased their performance and decreased their failure rate when compared to classes where lecturing is the primary method of instruction.
In addition, active learning narrows the achievement gap for first-generation students; nearly 42 percent of full-time students in the University of Maine System are first-generation students.
Smith says introductory biology faculty members throughout the University of Maine System are committed to making their classrooms an inclusive place for students from diverse backgrounds.
"While we were meeting for this project, we would often share instructional approaches that were making a difference at other campuses," she says.
This project resulted from funds awarded by the University of Maine Research Reinvestment Fund.
In addition to Smith, collaborating faculty and graduate students at UMaine included Emma Toth, Farahad Dastoor, Karen Nicole Pelletreau, Mindi M. Summers (now at the University of Calgary), Elizabeth Trenckmann and Erin Vinson. Other participants were Kim Borges and Peter Nelson at the University of Maine at Fort Kent; Jason Johnston and Judith L. Roe at the University of Maine at Presque Isle; Eric H. Jones at the University of Maine at Machias; Jennifer Page at Hurricane Island Center for Science and Leadership; Nancy Prentiss at University of Maine at Farmington; and Joseph Staples at the University of Southern Maine.
Another prior collaborative project developed by 25 faculty at six different institutions — involving an active-learning lesson to improve student understanding of a core biology concept called central dogma — worked so well the same collaborative approach was applied to this Research Reinvestment Fund project across the University of Maine System.
As for the question about timber biomass, although most students initially selected B — absorption of organic substances from the soil via the roots contributes most to the increase in timber biomass— the correct answer is C. Incorporation of CO2 gas from the atmosphere into molecules by leaves is the process that contributes most to the increase in timber biomass.To learn more, read about the team's objectives, lesson, methods and findings on CourseSource in the article titled "Using Place-Based Economically Relevant Organisms to Improve Student Understanding of the Roles of Carbon Dioxide, Sunlight, and Nutrients in Photosynthetic Organisms."
Contact: Beth Staples, 207.581.3777