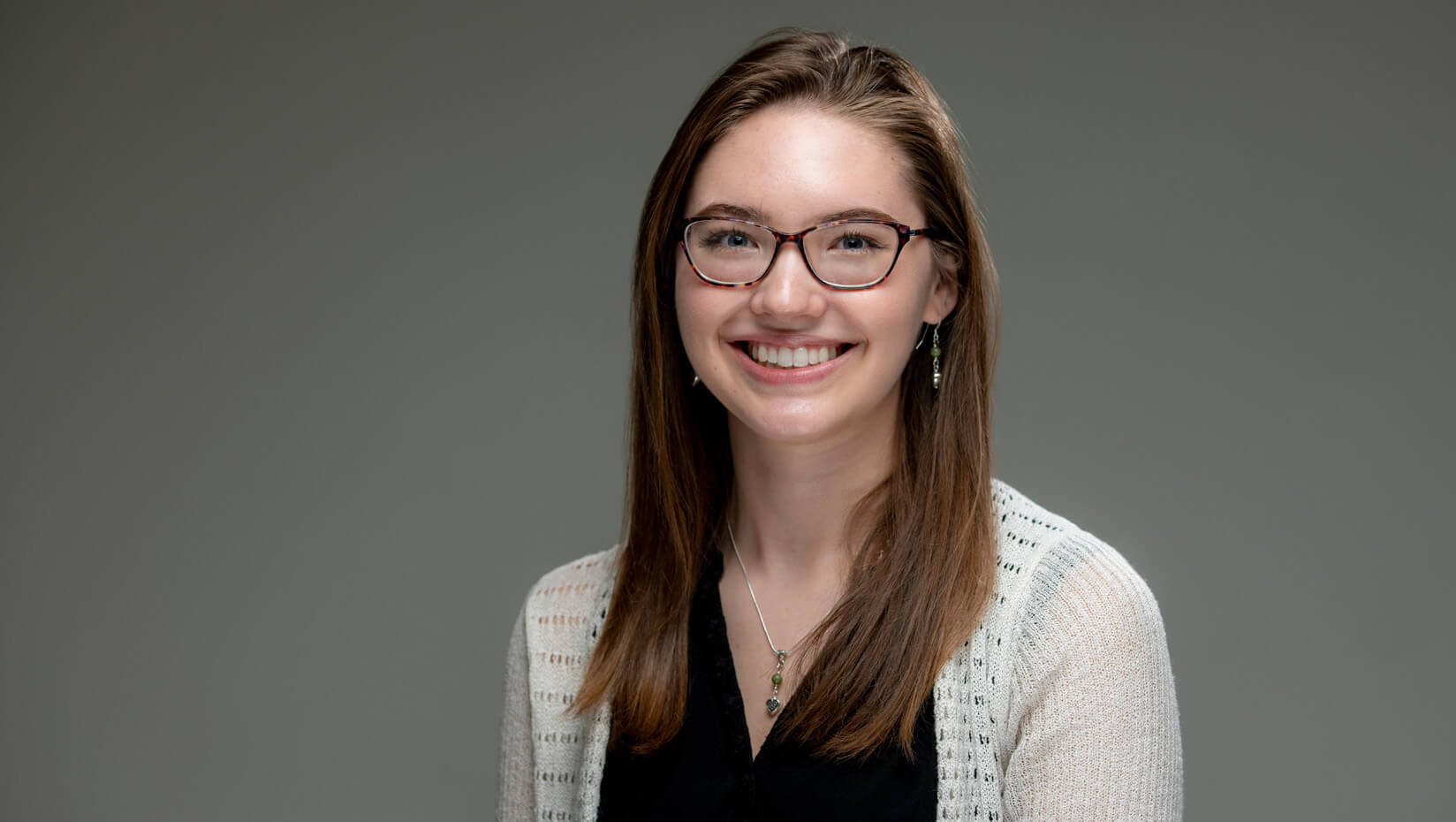 Bailey West: Biochemistry major to study in Ireland as Mitchell Peace Scholar
Bailey West, a biochemistry major at the University of Maine, has been awarded a George J. Mitchell Peace Scholarship and will study abroad in Ireland for a semester as part of the student exchange program.
The competitive merit-based scholarship is made possible by an agreement between Maine and Ireland for a student exchange at the university level. It honors the 1998 Northern Ireland peace accord brokered by Sen. Mitchell between Ireland and the United Kingdom.
The University of Maine System awards one full scholarship or two one-semester scholarships per year which allow students to study at University College Cork in Ireland. This year — for the third time — both winners attend UMaine.
West, from Stockton Springs, Maine, will make the trip in spring 2020.
The Honors College student is looking forward to courses that will allow her to explore Irish folklore and language while immersing herself in the local culture. She also plans to get involved in groups at the University College Cork, such as the International Students Society.
"I am most looking forward to the relationships I will form with locals in Cork and other international students. I predict that these friendships will be one of the most valuable aspects of my experience," says West, who is expected to graduate in May 2021.
At UMaine, West is a student researcher in the lab of microbiology professor Julie Gosse where she studies toxicological effects of chemicals on the immune system. She also is a teaching assistant for general chemistry and member of the Screamin' Black Bear Pep Band.
Why did you want to study in Ireland?
Studying abroad has been an important goal of mine because it will challenge me in ways unlike any other experience, and thanks to this incredibly generous scholarship, finances do not have to be an obstacle to this goal. I am looking forward to experiencing Ireland, especially because I have a lot of family history there. I am very excited to form new friendships, immerse myself in the local culture, and expand my comfort zone.
Why UMaine?
UMaine was the obvious choice for me. Maine is truly my home, and I am so grateful to be able to receive a challenging, rewarding education right here. I was drawn to UMaine especially for the opportunities to engage in research.
Describe your research in Julie Gosse's lab.
I have worked with Julie Gosse since freshman year, and it has been a great experience. I am studying the effects of the antimicrobial agent cetylpyridinium chloride, which is commonly found in consumer products including mouthwashes, on the functioning of mast cells, which are important players in the immune response. I will be continuing my research in the Gosse lab this summer with an INBRE (IDeA Network of Biomedical Research Excellence) fellowship, and I plan to continue this research for my Honors thesis.
How would you describe UMaine's academic atmosphere?
UMaine's academic atmosphere is diverse and collaborative. I appreciate the many different perspectives in any given classroom, which encourages open-mindedness and collaboration. I have found many opportunities to work with other students and professors. Although UMaine may seem like a larger school, there is a strong sense of community. I really appreciate that my professors are very approachable, and they are usually very eager to support their students who reach out to them.
Have you worked closely with a professor or mentor who made your UMaine experience better?
I have, of course, worked very closely with Julie Gosse in my research, and she has really supported my development as a researcher and otherwise. She has pushed me to think independently and apply for grants, and has challenged me academically as my biochemistry professor. I have also developed a strong relationship with Sally Molloy (assistant professor of genomics). I took her phage genomics course last year, and she was my preceptor for one of my Honors Civilizations courses. Sally has given me a lot of guidance, including encouraging me to pursue studying abroad, which has been instrumental in helping me achieve my goals. Melissa Maginnis, my Maine Top Scholar mentor (and assistant professor of microbiology), has also played a large role. Melissa has been so supportive of my goals and has offered valuable advice on numerous occasions, including connecting me with the Office of Major Scholarships for my George J. Mitchell Peace Scholarship application.
What difference has UMaine made in your life and in helping you reach your goals?
UMaine has connected me with many incredible people and opportunities. My relationships with professors and peers have proven to be invaluable. UMaine has helped me pursue studying abroad, research, teaching and leadership experiences, and is ultimately preparing me for my goal of a medical career.
What are your plans for after graduation?
I plan to attend medical school, and I ultimately aim to return to Maine to practice medicine.
Contact: Elyse Catalina, 207.581.3747