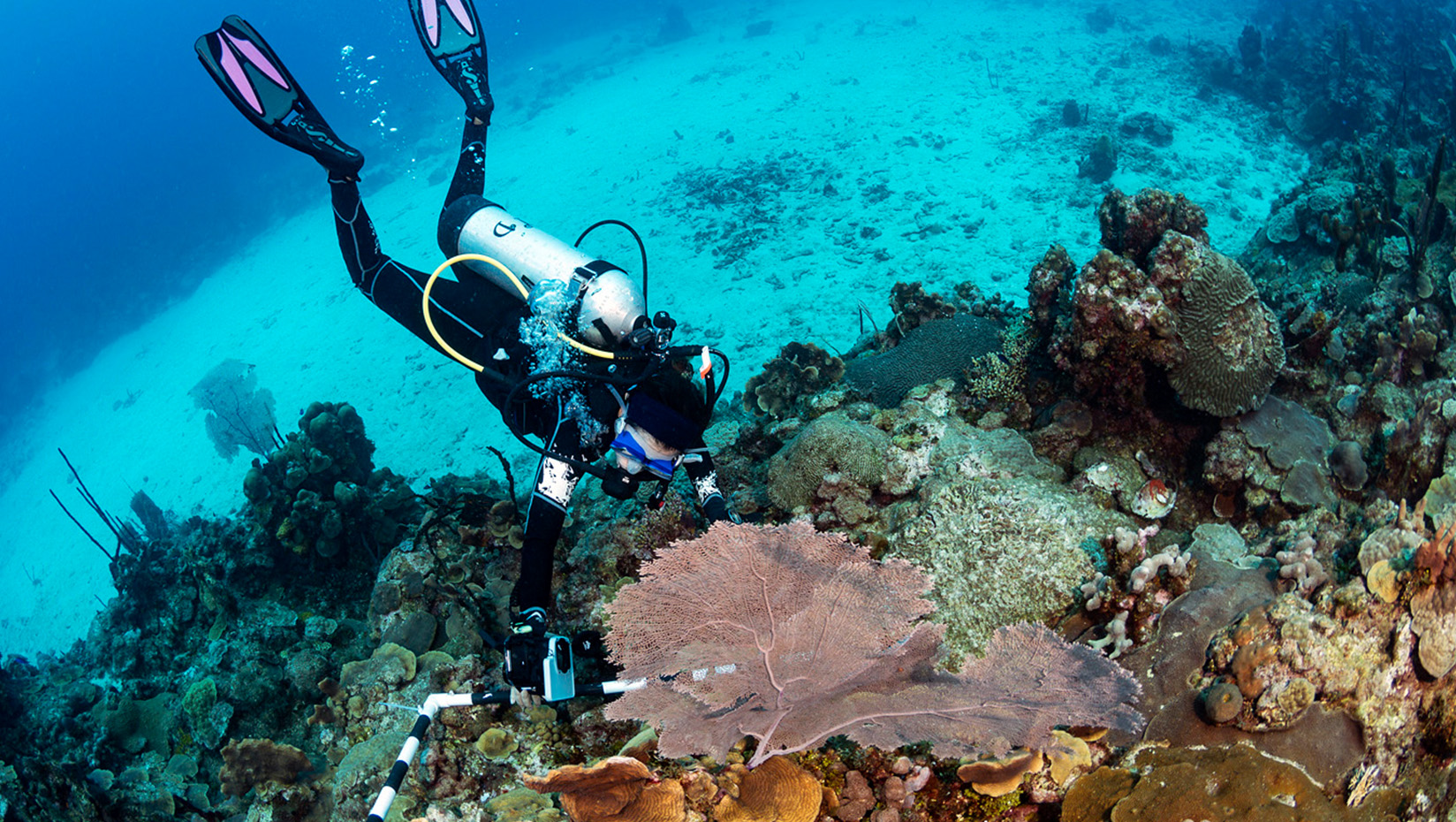 Coral detectives: Steneck, student team study reef health in Dominican Republic
The coast of the Dominican Republic is home to coral reefs, the world's most biodiverse marine ecosystems. But the reefs are rapidly degrading, threatened by the effects of climate change, overfishing and other human activities.
University of Maine researcher Bob Steneck and UMaine students traveled there May 12–25 to collect data, increase knowledge and diagnose problems if they exist.
This is the third expedition that Steneck, a professor of marine biology, oceanography and marine policy in the School of Marine Sciences based at the Darling Marine Center in Walpole, has led to monitor coral reefs in the Dominican Republic.
The project, a collaboration between UMaine and the local nongovernmental organization Reef Check Dominican Republic, aims to monitor the most important characteristics of the health of the reefs with the goal of detecting trends in population. It's co-coordinated by Steneck and Ruben Torres, Reef Check director and marine biologist. Previous trips as part of the ongoing research took place in 2015 and 2017.
Students from UMaine and the Dominican Republic work together to determine the status of reef health, and the collaboration is "a learning opportunity for both groups in terms of marine biology, coral reef ecology and cultural diversity," according to Steneck.
That collaboration already has resulted in a policy action on the ground.
In 2017, the team's research led to the country banning the harvest of parrotfish, which are key to maintaining the balance between algae and corals in the reef and are an indicator species for reef health.
This year, UMaine undergraduate students Grace McDermott, Mackenzie Menard and Hannah Kerrigan; and graduate student Gretchen Grebe; collected data on juvenile corals, herbivorous fish bite rates, sea urchin abundance, and damselfish distribution and abundance, respectively.
The UMaine students, all in the marine sciences program, took a graduate-level course on coral reefs that included a field trip to Bonaire and prepared them for research in the Dominican Republic.
Four students from the Dominican Republic — three undergraduate and one graduate — worked with them on-site, focusing on coral disease, reef habitat architecture and photo surveys. Torres surveyed all types of fish, and Steneck focused on coral, algae and organisms attached to reefs.
"This is a pretty unique program of teaching marine science but also helping a country monitor and manage their coral reefs," Steneck says. "The students learn about different cultures. Those of us from the U.S. get to observe and think deeply about coastal communities that depend on coral reefs but from very different economic conditions than most of us experience in our country."
This year, the team already has seen significant changes to the ecosystem.
"Since our last monitoring session, two hurricanes hit the north coast. We found coral cover had declined from 40 percent cover to about 20 percent cover," Steneck says. "However, several other sites showed increases in coral cover and overall coral reef health. Nevertheless, we are seeing diseases increasing at several sites that concerns us for the future of those coral reefs."
The researchers hope their data monitoring and collection, and resulting studies, will continue helping to inform ongoing reef management and conservation in the island nation.
The research is funded by Grupo PropaGas, an environmentally focused group of energy companies in the Dominican Republic.
Contact: Cleo Barker, 581.3729