New Faculty: Thomas F. P. Wiesen
Thomas F. P. Wiesen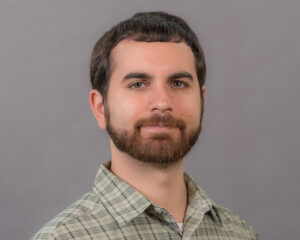 recently joined the School of Economics as an Assistant Professor of Macroeconomics.
Why UMaine?
Maine has an outstanding quality of life. The students here are dedicated. And UMaine is an excellent place to conduct scholarly research. I am proud to be working for Maine's flagship research university.
What has your journey been to this point?
I earned my Ph.D. in Economics at the University of Georgia. I also have a Master's degree in Statistics from the Florida State University and a Bachelor's degree in Economics from Northern Illinois University. I originally hail from the Chicago suburb of Addison, IL.
Please tell us about your teaching and research interests.
Broadly speaking, my research interests are in macroeconomics, time series analysis, econometric methods, and financial economics. More specifically, my research focuses on the econometric techniques and applications of financial and macroeconomic market integration (also known as connectedness). This research has implications for measuring economic spillovers, quantifying risk, allocating asset portfolios, and understanding contagions in financial crises.
I especially enjoy teaching Principles of Macroeconomics, which is often students' first exposure of economic fundamentals and economic thinking. I also enjoy teaching Time Series Econometrics and Money & Banking.
When did you discover a passion for your specialty and what do you wish more people knew about it?
I am passionate about my research on measuring market integration because we live in an increasingly connected and globalized economy. While this rising integration certainly presents many risks, it is also not something to be inherently fearful of. If economic fundamentals tell us anything, it is that there are gains from trade. This is true for individuals, businesses, economic sectors, and entire nations.
What are your predictions for your field in the near future?
In order to get a sense of where empirical macroeconomics and time series econometrics are headed in the future, I actually would look to where the field of statistics is going. Three big things come to mind: Bayesian methods, machine learning, and high-dimensional big data.