Katherine F. Jarvis: Outstanding Master's Degree Student Award
The Outstanding Master's Degree Student Award recognizes a student who has distinguished themselves in all aspects of graduate performance.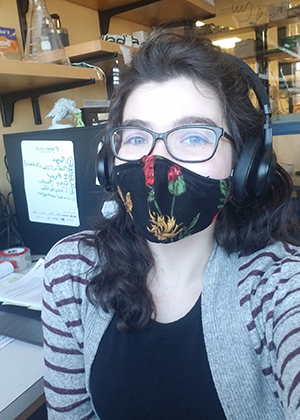 Katherine Jarvis came to UMaine to meld her fascination with biochemistry and mathematics.
Under the guidance of her advisors, Assistant Professor Joshua Kelley at the Department of Molecular and Biomedical Sciences and Associate Professor Andre Khalil at the Department of Chemical and Biomedical Engineering, Jarvis uses her interdisciplinary mastery of pipettes and programming to study how cells communicate using computational modeling.
When the COVID-19 pandemic upended her first year study, Jarvis readily turned her efforts to developing an epidemiological model to help schools open safely. A paper she first-authored from that research is currently under review with the journal Scientific Reports, and is already ranked among the top 5 percent of all research articles scored by Altmetric. 
Jarvis applied her experience with the COVID-19 project to a new model of receptor signaling where each protein is considered individually. The approach is already showing promise and a publication about the research is in development. 
After she graduates with a M.S. in Biochemistry, Jarvis plans to continue to harness the power of data science and visualization to advance biochemistry research.