SuriyaPrakaash LakshmiBalasubramaniam: George F. Dow Graduate Scholarship Award
The George F. Dow Graduate Scholarship recognizes a graduate student associated with the Maine Agricultural and Forest Experiment Station with outstanding academic and research performance.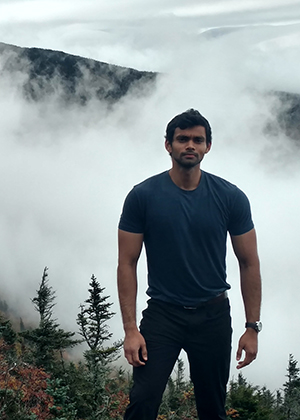 SuriyaPrakaash LakshmiBalasubramaniam seeks solutions to the plastic food packaging that is polluting our planet and bodies. 
With his advisor, Denise Skonberg, professor of food science and human nutrition, LakshmiBalasubramaniam is developing a biodegradable, renewable food packaging film made from refined forest products called cellulose nanofibrils. A barrier to adopting these films is that moisture, either from food or the environment, degrades its strength. 
LakshmiBalasubramaniam evaluates how different compounds from fatty acids to antioxidants affect cellulose nanofibrils and the films he would like to see replace plastic packaging. He also evaluates how the films may extend the shelflife of foods by inhibiting microbial activity or applying antioxidants to slow decay. A paper he first-authored from the research was published in Food Packaging and Shelf Life, and he has two more in development. 
After he graduates with a Ph.D. in Food and Nutrition Sciences, LakshmiBalasubramaniam plans to establish a food science company that benefits the wellbeing of life on our planet.