Wenjing Sun: George F. Dow Graduate Scholarship Award
The George F. Dow Graduate Scholarship recognizes a graduate student associated with the Maine Agricultural and Forest Experiment Station with outstanding academic and research performance.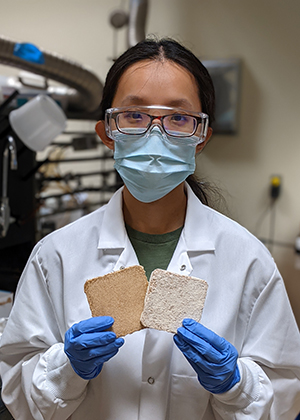 Wenjing Sun works to help the environment by developing biodegradable products from renewable resources.
With the guidance of her advisor Mehdi Tajvidi, associate professor of renewable nanomaterials, Sun conducts research at the intersection of material science, biology and chemistry to harness the powerful bonding capability of natural fungi to produce environmentally-friendly composites. Her findings advance the design of novel materials for packaging, construction, microfluidics and other biotechnology and nanotechnology applications.
Sun's first peer-reviewed paper established that a hybrid system of cellulose nanomaterials and fungal mycelium can be an effective binder for composite materials. In subsequent papers, Sun delved into the functionality of mycelium surfaces for wood bonding and discovered new methods to enhance or manipulate its hydrophobic properties. She has three additional manuscripts in development and has presented her findings at several scientific conferences. 
After she graduates with a Ph.D. in Forest Resources, Sun plans to continue seeking new applications for mycelium and wood-derived bioproducts.