The Buzz About Black Soldier Flies
By:  Lexi Gauger
It's no secret that our environment is in a bit of a crisis, but the good news is that scientists, researchers, and citizens are working tirelessly to address this crisis in diverse ways. As a student at the University of Kentucky studying Sustainable Agriculture and Entomology, I am focused on using agriculture to restore environmental health and provide equitable access to nutritious food. My REU project this summer through the University of Maine's ANEW program is taking me to a new ecosystem and a new form of agriculture that I haven't explored before- the ocean!
Our oceans are endangered by a variety of factors related to climate change and pollution, including acidification, warming, and microplastics. But one of the biggest issues, environmentally and economically, is the extreme overfishing that has depleted wild fish stocks. This has led us to switch to aquaculture, which is raising fish in a controlled environment like tanks or pens. But fish raised through aquaculture still must be fed with wild-caught fish meal, which continues to contribute to our over-fishing problem. This is where Dr. Andrei Alyokhin's work comes in- using the Black Soldier Fly to make a more sustainable fish food.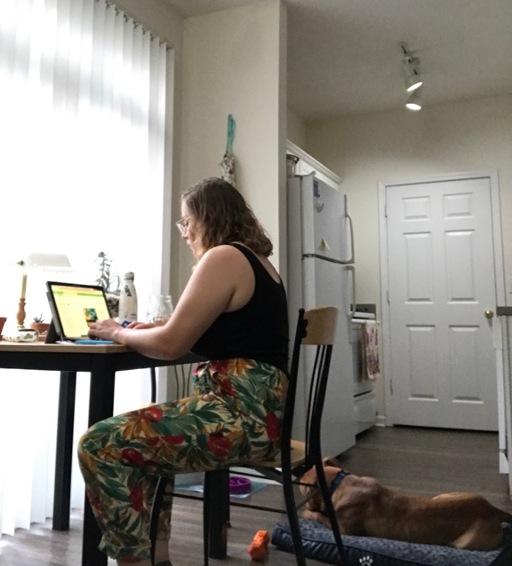 The Black Soldier Fly (BSF) is often considered a pest insect, but it actually has many beneficial traits. BSF larvae are high in protein and grow very quickly, plus they can feed on nearly any type of organic waste. My project this summer is to develop a fish food using Black Soldier Fly larvae as a more sustainable protein ingredient. To do this I'm using a software program that allows me to adjust ingredients to perfect the fish food recipe. As an added environmental bonus, the larvae can eat organic waste products, like food scraps or culled vegetables, and turn them into valuable protein! This helps us recycle and make the best use of our food resources.
Through our professional development opportunities, I have been challenged to think about my project from different angles. When discussing graduate school and professional opportunities after college, I think about how my research could be applied in industry or how I could transform this project into a graduate school project. With my Broader Impacts mentor, I think about the purpose of this research and how it has impacts on the environment and the community. And through this scientific communication project, I'm learning about communicating my research to the general public. This challenges me to distill my project into the simplest terms possible and grows my understanding of what I'm working on! The "message box" exercise below summarizes my project in a succinct way.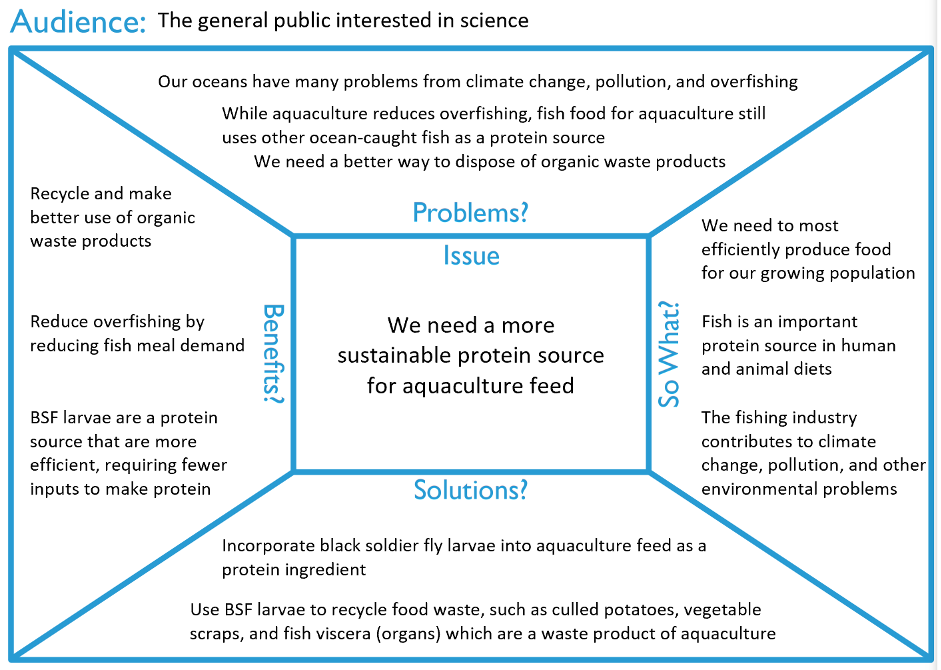 I have had a great time learning about this project, developing the fish food, and bonding with my cohort over this summer. I am excited to have my final results and present them at our end-of-summer symposium!