From Death Comes New Opportunities? How Tree Mortality and Bark Beetle Outbreaks Brought Me to Maine.  
By: April Jungo-Garcia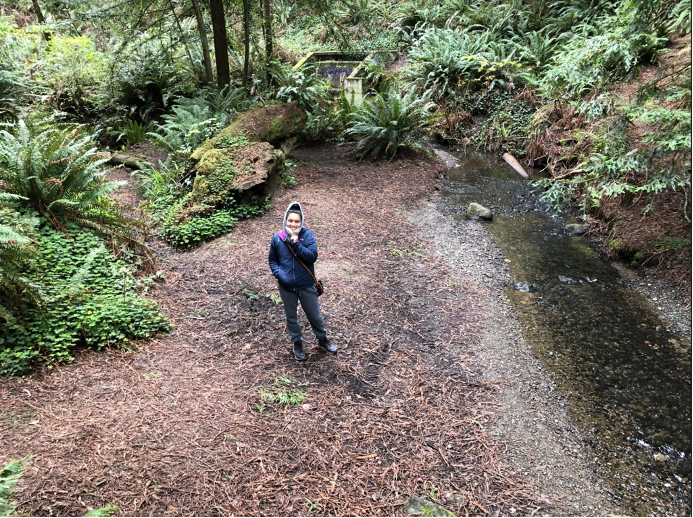 Hello everyone! My name is April Jungo and my home institution is Humboldt State University in northern California. I am a Zoology major with a minor in Chemistry and I will be starting my final semester at HSU in the Fall. I would like to pursue a master's degree in either insect borne diseases or in insect behavior. I applied to the REU ANEW program to gain valuable research experience that will help me prepare for graduate level research. I was also drawn to the OneHealth aspect of their program because of their concern for plants, animals, humans and the environment.
I study bark beetle outbreaks in the US, focusing specifically on the species Dendroctonus frontalis and Dendroctonus ponderosae. These species of beetles emerge from trees of the genus Pinus in the month of June, emerging to infest other Pinus trees and reproduce in them. Bark beetles achieve this by releasing aggregate pheromones, which are chemicals that they release to attract other bark beetles and ultimately, attack a tree. If a tree that a bark beetle has selected has experienced water shortages, then the tree is able to produce very little protective resin and is more susceptible to a bark beetle infestation. Bark beetle outbreaks then cause these low defense trees to die. So, why should we care? Warm temperatures decrease the development time of bark beetles, meaning that global warming will result in greater populations of bark beetles and an expanded range of its northern and southern boundaries. This ultimately means that more trees will die. Dead trees are at a higher risk of experiencing wildfires. Dead trees impair water and air quality. Forests that are less aesthetically pleasing are less likely to attract tourists, affecting the local communities that rely on tourism. Properties can lose up to $70,000 worth of value if they are surrounded by dead trees due to less privacy from tree cover, increased risk of falling trees, and increased risk of fires. The question I would like to answer with my research then, is what landscape and climate features are correlated with bark beetle infestation? This includes gathering data on bark beetle observations and landscape or climate features like rainfall, land cover, temperature and elevation and analyzing it through programs such as ArcMap and RStudio.
If I could offer a word of advice to students who are hesitant to apply to the program, specifically those that fear rejection because they aren't experts in their field of study, I strongly encourage you to apply. The purpose of the REU is to learn, whether that involves navigating computer programs for data analysis or understanding that research doesn't always go as expected. These are valuable learning experiences and your mentors are there to provide their support and guidance along the way.