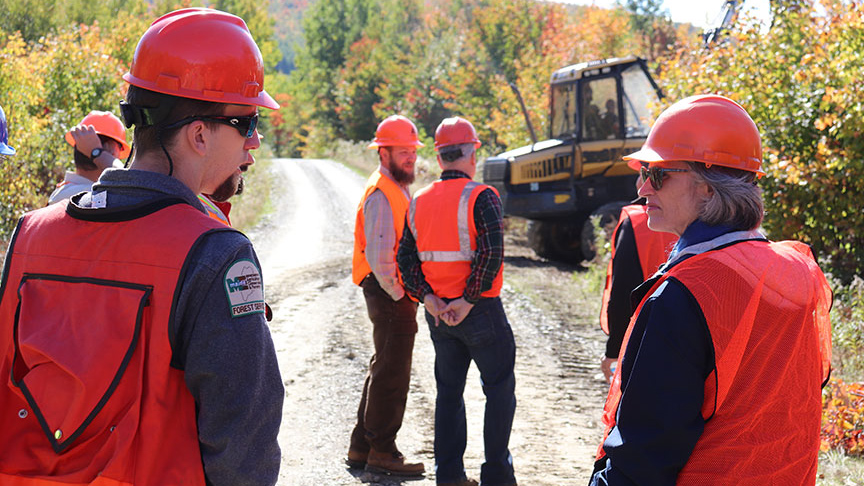 Dean Rowland connects with forest industry and agency leaders
Diane Rowland, dean of the college and director of the Maine Agricultural and Forest Experiment Station, connected with the agency and industry leaders who help shape the Maine woods on October 4. Maine Department of Agriculture, Conservation and Forestry Commissioner Amanda Beal and Maine Forest Service (MFS) Director Patty Cormier organized a tour in northern Maine's forests to introduce Rowland, who assumed her current role on August 1, to Maine's forest resources and forestry operations.
"I look forward to deepening relationships and facilitating the work NSFA does to serve the industry and state while exploring opportunities to improve our effectiveness and continue to find new ways to stay relevant and address emerging needs," Rowland said. 
The trio was joined by University Forest Manager Keith Kanoti, UMaine School of Forest Resources Interim Director Dr. Bill Livingston, Maine Forest Products Council Executive Director Patrick Strauch, and Maine Sustainable Forestry Initiative Coordinator Pat Sirois.
"This tour was a strong testament to the value of various partners getting out in the field and learning of our commonalities and where we can all work together to support all things forestry in Maine.  It was great to meet Dean Rowland and all the others who participated. We will build on these discussions," Cormier said. 
The group toured the Pleasant River Lumber Company's new Enfield Mill and met at an active logging site with industry representatives including Ben Dow, Henning Stabins, Ray Ary, MFS District Forester Jim Ferrante, and the father-and-son team from Dulac Timber Management. BPL staff joined the group at Lilly Bay State Park for lunch.
Those present also discussed the contributions UMaine makes to forestry in Maine, and current and future opportunities for collaboration. 
"I've been in Maine for 36 years and never experienced a tour that was so effective in demonstrating what a treasure we have in the Maine forest and how much it means to the state in so many ways," Livingston said.
Commissioner Beal added, "Special thanks to everyone who coordinated this important tour, and welcome again, Dean Rowland. We look forward to continued collaborations with the University and our partnerships with the public, private, and nonprofit organizations, to advance support of our forestry community, and best serve the people of Maine."