Scott Walker: Combating Life-threatening Diseases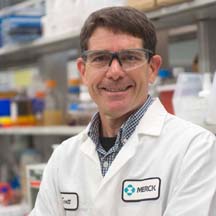 Scott  Walker, a principal scientist of infectious diseases at Merck Research Laboratories in New Jersey, graduated with a bachelor's degree in microbiology from the University of Maine in 1986.
For 18 years Walker, who earned a Ph.D. in molecular biology and biochemistry in 1992 from the University of Connecticut Health Center, School of Medicine, has been employed by Merck where he works to discover new antibiotics to treat life-threatening infections by resistant bacteria.
Born in Bangor to a pair of 1962 UMaine graduates, Walker grew up in Orono and graduated from Greely High School in Cumberland after his family moved while he was entering 10th grade.
Like himself and his parents, Walker's wife, Celesta Sbardella Walker, also is a Black Bear and graduated in 1986 with a degree in elementary education.
"We met the second weekend of sophomore year, both 19 years old; a true bear pair," Walker says.
The Walkers have two children. Their oldest, Adam, attends UMaine and expects to graduate in 2017.
Describe some of your latest research and what you aim to discover:
My current research is aimed at discovering new drugs to fight deadly, antibiotic-resistant bacterial infections. These are the "superbugs" we see in the news. Many bacterial infections, especially those acquired in the hospital, are resistant to common or "first-line" antibiotics and some are resistant to all antibiotics. New drugs to combat these infections are desperately needed.
What are some of the life-threatening infections you are hoping to treat with new antibiotics?
The so-called Gram-negatives are the focus of the work we do. Examples of Gram-negative bacteria are Escherichia coli, Pseudomonas aeruginosa, Klebsiella pneumoniae, and Acinetobacter baumannii. The really nasty infections usually occur in the hospital and can be very tough, if not impossible, to treat. The Centers for Disease Control has categorized these organisms as significant threats to human health worldwide.
Why did you want to work at Merck?
Merck and, prior to that, Schering-Plough are world-class companies. We do groundbreaking drug discovery and development to combat or treat life-threatening diseases, viral and bacterial infection, cancer and heart disease. It's amazing to be a part of that.
Growing up in Maine, did you ever think you would be working for a big pharmaceutical company in New Jersey?
I had no idea. My parents grew up in Auburn and are both UMaine grads. I was born in Bangor and we lived in Orono for many years, but they always told me there is a big world out there. My dad is a Vietnam veteran and we lived in the South for a few years and a couple of years in New Jersey after that before returning to Orono. I will always consider Maine my home, but the winds of a career blew us to New Jersey.
Why did you decide to study microbiology?
With the inspiration of an outstanding high school biology teacher I developed a love for biology and in particular microbiology. It sounds really nerdy, but I'm fascinated by the unseen world around us and in us. My bio teacher had a life-changing influence on me at a time when I wasn't sure which direction to go. We had just moved to a new town (Cumberland) and I was feeling lost until I took biology.
Why UMaine?
I was born in Bangor, grew up in Orono, and my parents are UMaine grads; was there any other choice? I filled out one college application.
How did UMaine and the microbiology program in particular prepare you for your career?
Microbiology at UMaine was, and still is, a rigorous program that provided a solid foundation for my graduate work at the University of Connecticut Health Center. The training I received at UMaine gave me the background and confidence to handle the coursework for a Ph.D. program. My Hitchner Hall laboratory experience also exposed me to many of the modern molecular biology techniques I would later use in my graduate research project.
Did you work closely with a professor or mentor who made your UMaine experience better?
Two professors at UMaine had a huge influence on me; professors Richard Blake and Keith Hutchison. They both challenged me to think as a scientist and to push the limits of my abilities. I wouldn't be the scientist I am today without their mentoring and inspiration.
What was your favorite place on campus?
Alfond Arena. We were there for Coach Walsh's first season. What a special place to enjoy a hockey game with your friends. I watched a game with my son in January of this year and it felt exactly the same. Also, the Bear's Den — the original one downstairs.
Most memorable UMaine moment?
It's hard to point to a single moment; there were so many. Having fun at an intense hockey game against UNH, doing well on an exam you really worked hard for, meeting a Nobel laureate, walking across campus on the first warm day of spring.
How does UMaine continue to influence your life?
I am very proud to call myself a UMaine graduate and a Black Bear. My education there prepared me, without a doubt, for the success I enjoyed in graduate school and in my current profession.
How often do you visit Maine?
Our ties to Maine are wide and deep. My family has had its roots in Maine for hundreds of years. My brothers live in Maine and the Boston area and Celesta's family all live in and around Portland. The pull is pretty strong.
We travel back to Maine as often as we can for holidays and summer vacations to visit family in the Portland area and to be "tourists" in our home state.
I love to ski, hike, bike, fish and camp in Maine. I did the Dempsey Challenge 100-mile bike ride last fall and skied Sugarloaf several times this season. There's really no place we'd rather be for some rest and relaxation.
Any advice for students today?
Don't be afraid of hard work; it will pay off. Sometimes it takes a few years (like a Ph.D. program), but even when you're in the midst of working harder than you ever thought you would or could, think about the small day-to-day successes in your life. It's like putting coins in a jar, it takes a while, but you'd be surprised what you can build up.
Anything else you'd like to add?
In January I had the honor of giving a seminar in Hitchner Hall on the work I do at Merck and talk with students about life in "Big Pharma." It truly was the highlight of my professional career, so far, to come back to Orono and talk with faculty and especially students.
It's easy to see that the faculty has a passion for their research and training the next generation of scientists. If we as a nation are going to remain at the forefront of the biomedical sciences we need places like UMaine and people so dedicated to research and education. Plant the seeds and watch them grow.
 Photo by Michael Lund, Photographer for Merck Media Studio