Jim Rittenburg: Fascinated by Technology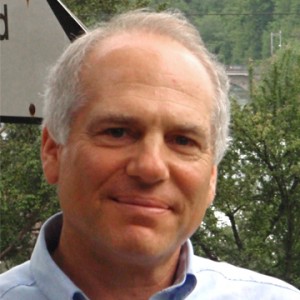 University of Maine alumnus Jim Rittenburg is captivated by technology, specifically when it's used to make improvements.
As an inventor on 11 patents, the technologist and business development executive has experience developing and commercializing products based on advanced technologies.
His latest venture is a business he co-founded with his wife, and fellow UMaine alumna, Lorna. The Perkasie, Pennsylvania-based couple formed IC Optix® to develop and commercialize convenient vision aids to assist millions of people in reading product label information.
Before IC Optix, Rittenburg worked for 20 years as a vice president for Authentix, a global leader in authentication that provides brand protection and supply chain security solutions.
Rittenburg, who was born and raised in Massachusetts, earned three degrees from UMaine — a bachelor's in microbiology in 1976, a master's in animal and veterinary sciences in 1978, and a Ph.D. in microbiology and animal sciences in 1981.
Describe IC Optix and how it started:
IC Optix has recently obtained two patents on a new type of lens technology that can provide consumers with easy and convenient ways to read the small print on health care products, food and agricultural products, and many other items.
In the United States and Europe, there are well over 300 million people that have difficulty reading important product information such as ingredient lists, use instructions, recommended dosage, nutritional information and warnings.
To accomplish this mission we have developed novel thin film magnifier technology that is integrated into product labels and also into everyday items like pens. We help manufacturers engineer convenient vision aids into their product packaging for easy use by the consumer.
We started IC Optix after about three or four years of tinkering with ideas for simple and convenient vision aids. I thought it would be handy to have a decent magnifier that was easy to carry in your pocket and had come up with an idea for creating magnifier lenses on a thin film that could be scrolled in and out of a pen like a roller blind. Lorna saw this and had the idea for making the thin film lens part of a product label or product packaging.
After doing some research we realized our ideas were novel, and we filed patent applications to protect the intellectual property. About the same time we filed the patents we decided to form a company to pursue product development and commercialization, and IC Optix was born.
What are your goals for IC Optix?
Our goal for IC Optix is to create products that are useful and genuinely help people. There is a large segment of the population — about 50 percent of the U.S. population — that has trouble reading small print without some form of vision aid.
Our goal is to create vision aids that are convenient, unobtrusive and close at hand when needed. To achieve this goal we are working with brand owners to integrate the lens technology with products such as pharmaceuticals, over-the-counter medicines, garden chemicals and many other products that have labels or packaging with very small print.
What interests you about developing and commercializing products?
I have always been fascinated by technology and with using technology to make things better. The process of identifying a problem, coming up with ideas on how to address the problem, and then developing and commercializing solutions to the problem can be challenging, stimulating and ultimately very satisfying.
It also can be frustrating at times, but as long as you are convinced that success is one of the possible outcomes, then it pays to be persistent and to keep learning from every result you get along the way.
Why did you decide to study microbiology and animal and veterinary sciences?
Since I can remember, I have been interested in nature and I had originally thought I would major in biology or zoology. However, once I took an introductory microbiology course I was fascinated by the diversity of the world of "little creatures" that exist in a dimension beyond what we can see with our direct vision.
I also felt at the time that the field of microbiology was developing quickly and there would probably be some good opportunities for people with a background in this area. Pursuing a graduate degree in animal and veterinary sciences was a natural progression from my undergrad work in microbiology.
Toward the end of my undergraduate degree I was fortunate to meet Bob Bayer who was a professor in the Animal and Veterinary Sciences Department. Bob was conducting very interesting and applied research in both marine and avian science, and he was looking to take on a graduate student that had experience in microbiology — it was a perfect fit.
Did you work closely with a professor or mentor who made your UMaine experience better?
Some of the fondest memories I have of UMaine are the years that I worked on my master's and Ph.D. degrees under Bob Bayer. Bob was an extraordinary mentor who I will always be grateful to for his inspiration and innovative thinking. Bob has an excellent way of working with students. He encourages his students to embrace new approaches and out-of-the-box thinking, and not to be afraid to challenge convention.
Why UMaine?
Maine had been an annual vacation destination for my family since I was a child, and it led to a love for the outdoors. I knew I did not want to attend college in a city, and I also did not want to go a large university. So when it came time to consider university, UMaine was already high on the list.
After checking out the curriculum and following a visit to Orono to look at the campus, I thought this would be a great place to pursue both my academic interests and my outdoor interests. It was the perfect choice.
How did UMaine prepare you for your career?
UMaine had a very good microbiology program that provided a strong foundation for the master's and Ph.D. graduate programs that I subsequently embarked on at UMaine. In addition to the solid academic training I received, I also found the environment and culture to be very down to Earth.
My career has mostly been focused on developing technology in practical ways and applying it to solving problems. UMaine and Maine in general has a strong culture of living life in a practical way and applying practical approaches to solving problems. UMaine provided solid academic training and a balanced outlook on life that has served as a great foundation from which to develop a career.
What was your favorite place on campus?
During undergraduate years my favorite place was the handball courts. During graduate school it would be the Bear's Den.
Most memorable UMaine moment?
Proposing to Lorna in Hitchner Hall. She was a foreign student from England and had enrolled in a master's degree program in the Animal and Veterinary Sciences Department and I was just starting my Ph.D. program when I met her.
How does UMaine continue to influence your life?
Bob Bayer and I have continued to stay in regular contact and we compare notes on our respective ventures. I have also participated in lectures at UMaine and the University of Maine at Farmington over the years and Skyped into Bob's class periodically to speak with his students. There also are some long-lasting friendships that remain today from my years at UMaine, not to mention my 33-year marriage with Lorna.
How often do you visit Maine?
I usually go back to Maine at least two times every year. Every fall I meet up with friends — including Bob Bayer — for a camping trip on the Maine/New Hampshire border. Also every February, I meet up with two UMaine classmates for an annual winter camping trip to hike up a Maine mountain. We have done this nearly every year since we finished undergrad in 1976.
Any advice for students today?
The job scene is more competitive than ever, so it is really important to develop an interesting resume that includes more than just good grades. Internships or summer jobs in a related field are extremely helpful for gaining experience, developing a network, getting references and differentiating yourself from others who do not do this. Being active in clubs or volunteer activities also provides a good break from academics and makes for a more interesting job candidate.
How do you like to spend your time outside of the office?
I have a passion for astronomy and regularly give lectures at our local astronomy club. I also enjoy fly-fishing in various parts of the world for both freshwater and saltwater species. With our kids scattered across North America — from Vermont to Idaho to British Columbia — Lorna and I usually find time to plan trips that include some combination of hiking, camping, fishing and boating. And then there are those trips back to Maine for hiking and camping with old friends.