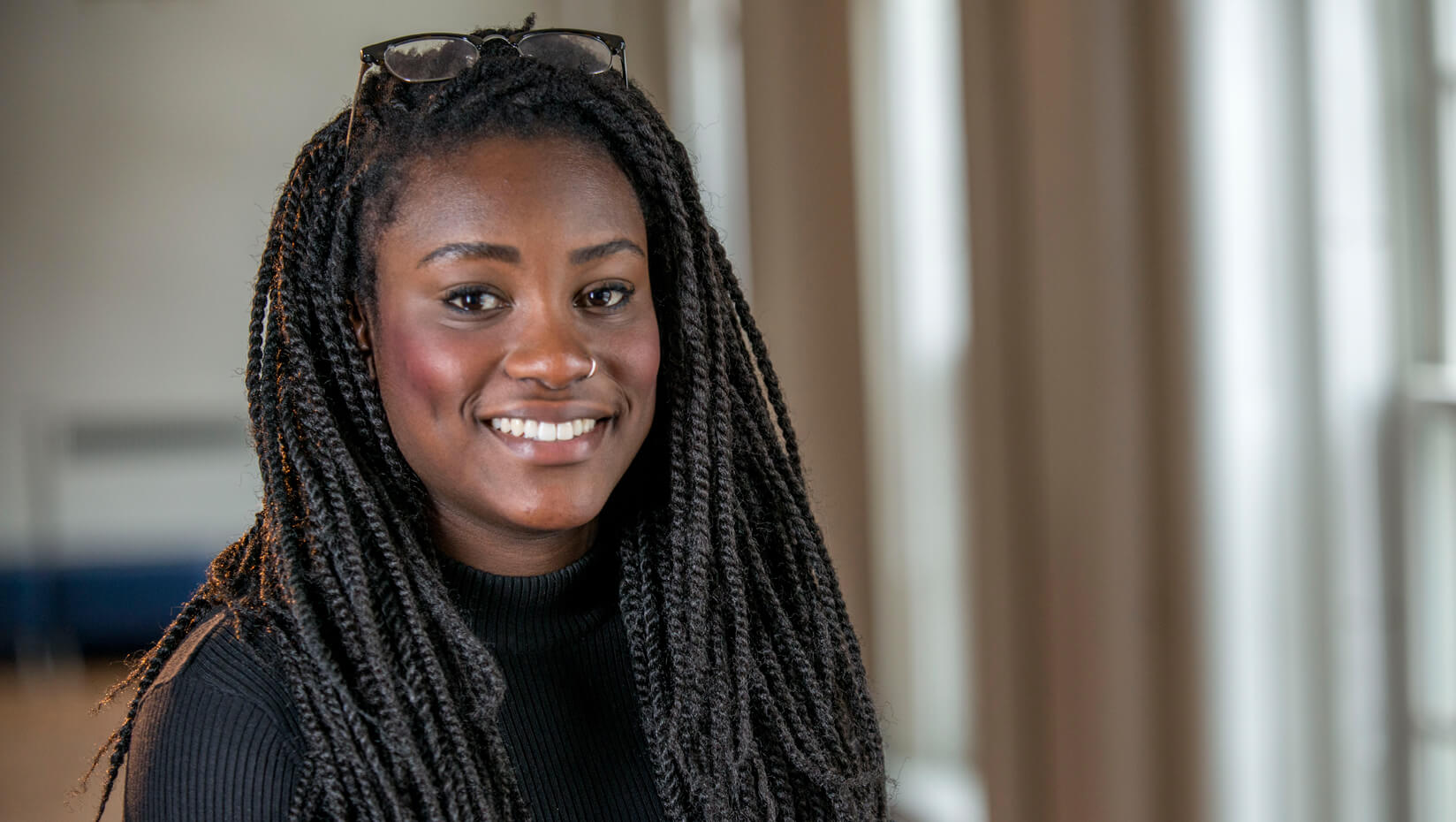 Noelle Leon-Palmer: Biology major, athlete examines science of love in honors thesis
Recent graduate Noelle Leon-Palmer says the University of Maine provided her a rewarding college experience in the classroom studying biology and writing an honors thesis, as well as on the field as a member of the women's soccer team.
Leon-Palmer, of Ajax, a town in Ontario, Canada, graduated in May with a bachelor's degree in biology and honors.
"These past four years have been amazing," she says. "I feel like I have a really well-rounded school experience and also a very well-rounded soccer experience. I feel like I'm so ready for anything the world is going to throw at me in the future. I loved these past four years here."
She joined the Honors College in the second semester of her first year after learning about the program from her coach.
"The Honors College — well my definition — is a very liberal way of learning about a whole broad range of topics. We go from philosophy to biology, a little bit of chemistry; we did genetics at one point," she says.
Leon-Palmer, who aspires to be a physician, says she enjoyed having small, discussion-based classes with peers studying different majors.
"There's no class where it's all biology majors — you'll have an engineering major, a math major, a bio major — and you'll get so many different perspectives of one book or one topic; and it's awesome, you learn so much from it," she says.
Leon-Palmer recently accepted a position as honors associate in the Honors College. The one- to two-year job includes editing and writing for the college's publication Minerva, co-teaching an introductory course on thesis writing, acting as a liaison between students and their thesis advisers, and helping students navigate their first years in the program.
Since graduating, Leon-Palmer has taken the MCAT (Medical College Admission Test) in anticipation of applying to medical schools. She also plans to spend her weekends volunteering at Eastern Maine Medical Center in Bangor.
Why did you choose to study biology?
I would like to be a physician when I am older, and I thought biology would be a good first step. I have a great passion for biology. I think the synchrony of nature and especially of the human body is remarkable. Studying it has been a pleasure.
Why did you join the Honors College?
I love reading and writing. I heard the Honors College program is both reading and writing intensive, and I was sold. I also heard the Honors College is focused on small, class-based discussion, and I thought that was very neat. It was a very liberal arts method of learning.
Furthermore, I was afforded the opportunity to read a lot of the classic books that I otherwise wouldn't have the chance to read. I feel like people don't really get the opportunity because they're forced to read chemistry and biology and that's it. So it's hard to take the time to be able to read Plato or [Francis] Bacon.
Describe your honors thesis:
My thesis explores the physiology, neurobiology and endocrinology of love; basically all of the nonromantic stuff.
I tried connecting the sciences and humanities by writing a creative piece and then lacing the science content into the story.
One reason for formatting my thesis this way was to make it a learning tool for people that do not have a science background, but have trepidation toward the harder topics like neurobiology, physiology and endocrinology. Basically my goal was to make science more accessible.
The narrative surrounds a girl named Clara. She is 21, and the story goes through her falling in love, getting heartbroken and then finding a way to heal herself. I also go into puberty and development a little bit. Throughout the narrative, I weave the science into the story as each of the events in Clara's life occur.
I based all of the science on research that is already out there on the science behind love — and there is a ton. People may not be aware, but love is an essential part of life and the feelings that are associated with love are able to be explained by science.
Would you recommend the Honors College to other students?
I would recommend it to anybody who has a chance to do it. It covers all the general education requirements in the first two years, which is amazing. And then you get to focus on the things you really want to focus on.
Having a discussion-based class is such a privilege to be able to hear what other people are thinking. When you have these lecture halls full of like 200 kids, you get to listen to the professor and it's awesome, but you don't get to really interact with the other students, and I think that's really important.
I definitely feel like more of a well-rounded person because of honors; because I've met and been able to interact with so many different people.
And of course, the opportunity to do a thesis in your undergrad; not many people get that opportunity.
What are you looking forward to in your new role within the Honors College?
I'm very excited about the position. I wanted the job as the honors associate because [as a student] I was able to witness firsthand the impact that the honors associates can have on the honors experience. I think it's such a privilege to be that person next year. I want to make the honors journey amazing for as many students as possible.
What are the challenges and benefits of being a student-athlete?
The benefits are plenty in terms of the knowledge and the mental toughness that I have acquired. I have learned things like time management, leadership skills, how to work in teams.
Furthermore, I have learned how to push my body and my mind. I think the skills that I learned through being a student-athlete have made me a much tougher person.
The challenges are also plentiful. Managing your time and your sleep can be difficult, along with managing your body and mind to not become too stressed or tired. Other challenges become things like school; finding time to accomplish all of your work on time. And when you miss school — because of events or games — having to catch up can be hard as well.
But honestly, the rewards outweigh the challenges.
Why UMaine?
I live in the city, and I wanted something different for my college experience, so I chose Maine. I also heard there is a great biology program here. And when I came on my visit, I felt good vibes here. My intuition was right.
Have you worked closely with a professor or mentor who made your UMaine experience better?
Kristy Townsend was my thesis adviser, and she is amazing. I wouldn't have gotten through this year without her.
What difference has UMaine made in your life and in helping you reach your goals?
UMaine is such a large community. There are people that are always willing to help out. Just by simply asking, I have found myself in fantastic positions to continue to move toward my absolute goal of medical school. I don't think the kind of support that I have received would be so readily available at another school. On top of that, the support that I have received from the athletic department has been tremendous.