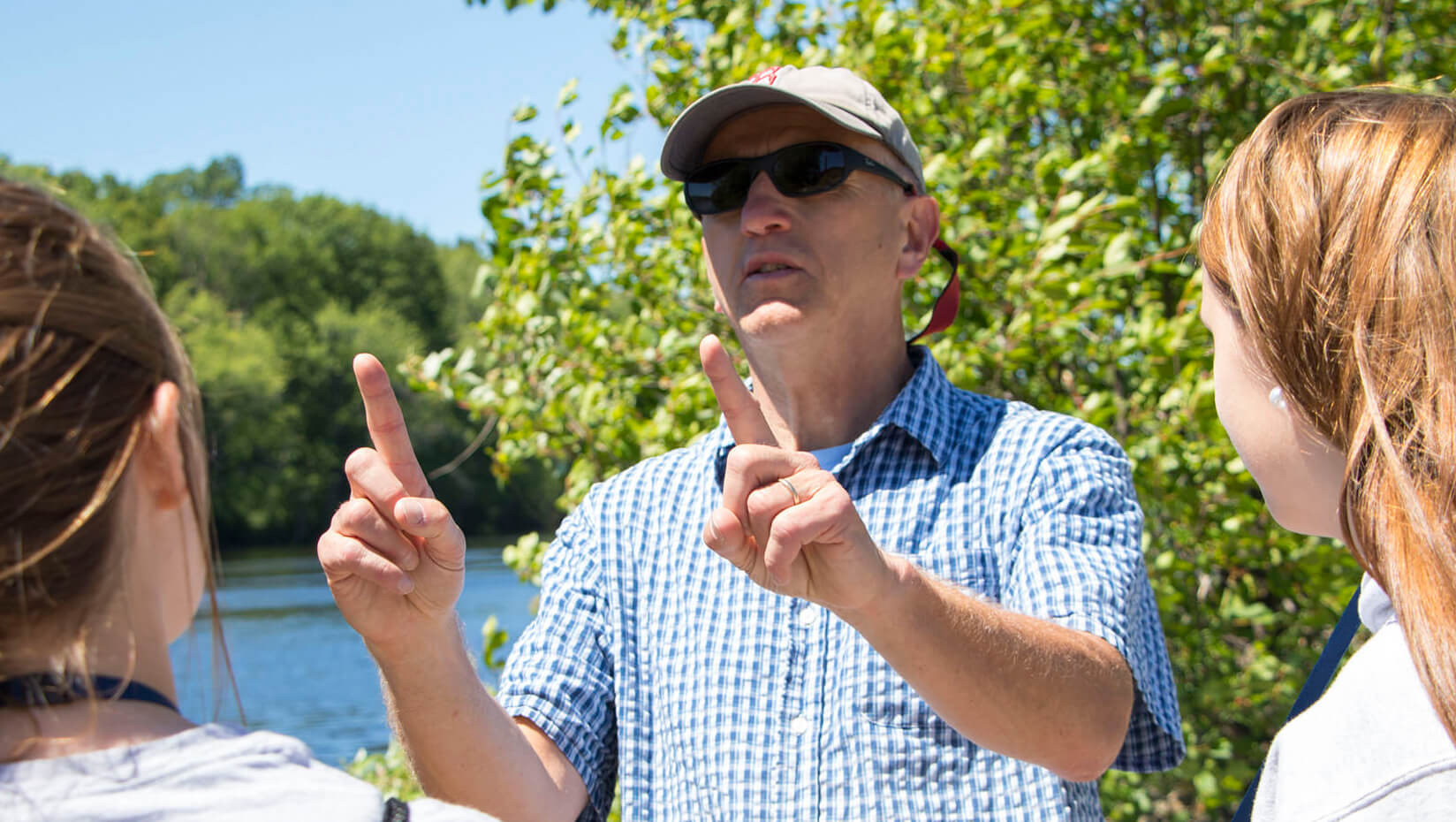 Cary James: UMaine alumnus and champion for the students
University of Maine alumnus Cary James has been teaching chemistry at Bangor High School (BHS) for 17 years, and currently serves as the head of the school's science and technology department. He has received numerous distinguished teaching awards, and his students have been recognized internationally for their academic achievements and innovations in the STEM fields.
This fall, he received one of the nation's top honors: a 2015 Presidential Award for Excellence in Mathematics and Science Teaching.
James received a master's degree in plant pathology from UMaine and worked for University of Maine Cooperative Extension before beginning his career as a science educator — a career he says began by accident.
While working for UMaine Extension, James saw an opportunity at a local high school — a challenging mid-year opening at Piscataquis High School in Guilford, Maine.
His supervisor and graduate school mentor Jim Dill, pest management specialist with the UMaine Extension, encouraged James to take the position.
"(Dill) said I'd be crazy not to take the job and get the summers off," says James recounting, " I didn't ever really get them off. Most (have been) spent working with the students."
And thus began his nearly 30 years as a STEM educator. And all the while, he kept his UMaine roots close.
James began his appointment at BHS in 1999 and since has spent countless hours mentoring students in research outside the classroom, on weekends and during the summer.
He appreciates the value of research-based science in high school STEM education and has a passion for improving the quality of water for people in developing countries. As a result, he has led high school student research focused on water sanitation, conservation and remediation for many years.
His goal has always been to teach his students how to become researchers.
In 2012, James pioneered the development of the BHS STEM Academy to make the pursuit of research more accessible to students. STEM Academy, Maine's first, is a rigorous academic program that exists alongside the normal curriculum and includes apprentice research experiences at University of Maine.
The program currently has 70 students enrolled.
Throughout their sophomore, junior and senior years, James and UMaine faculty work with academy students and aid in the development of an original research-based capstone project.
This year, James' STEM academy student and mentee, Paige Brown, won the first place INTEL Science Talent Search "Global Good" award for her research on improving water quality. The project was supported in great part by Aria Amirbahman, UMaine professor of civil and environmental engineering.
It is billed as the nation's most prestigious science award for high school students.
Many of his students have been recognized for their research. The last 10 Maine state winners of the Stockholm Junior Water Prize have been James' students with three competing, and placing, at the national level.
It's a record he likes to say is "better than most high school basketball teams."
James believes the STEM Academy at BHS can serve as a model for other high schools in the state.
Mohamad Musavi, associate dean of UMaine's College of Engineering, is principal investigator of the Storm Water Management Research Team (SMART) program and co-directs the project with James. SMART is supported by a $750,000 grant awarded by the National Science Foundation.
The SMART program focuses on creating solutions to environmental problems related to stormwater management at the community level. It aims to draw underrepresented students into the STEM fields through direct participation in research and is hosted at UMaine.
This past year — the program's third — nearly 85 high school students and almost 20 teachers from across Maine, as well as other parts of the country, attended the program and worked with UMaine faculty and engineering students on a variety of hands-on projects.
In addition to his work in Maine, James has travelled internationally with UMaine faculty to conferences and research projects around the world.
He participated in the international conference on Climate Change and the Future of Water in Abu Dhabi, United Arab Emirates with Shaleen Jain, associate professor of civil and environmental engineering, and Daniel Sandweiss, professor of anthropology and climate studies. During his visit, he spoke about the STEM Academy as a scalable model and met with the teachers and students of a local high school to share his ideas on STEM education.
He has also traveled to Peru with Sandweiss to collaborate in ongoing research projects.
Sandweiss says he "cannot imagine a more dedicated, effective, energetic, inspiring, innovative and inclusive science teacher, anywhere."
Sandweiss and Jain nominated James for the Presidential Award of Excellence in Mathematics and Science Teaching.
James, who lives in Orono, regards the university as a tremendous partner. He attributes much of his success to the hard work of his students and colleagues at BHS and UMaine.
Many of them would tell you, however, that he is the true champion for the students.
"(James) genuinely cares about providing the best education for his students, inside and outside the classroom and this attentive and enthusiastic attitude is the embodiment of excellence in teaching," says Musavi.