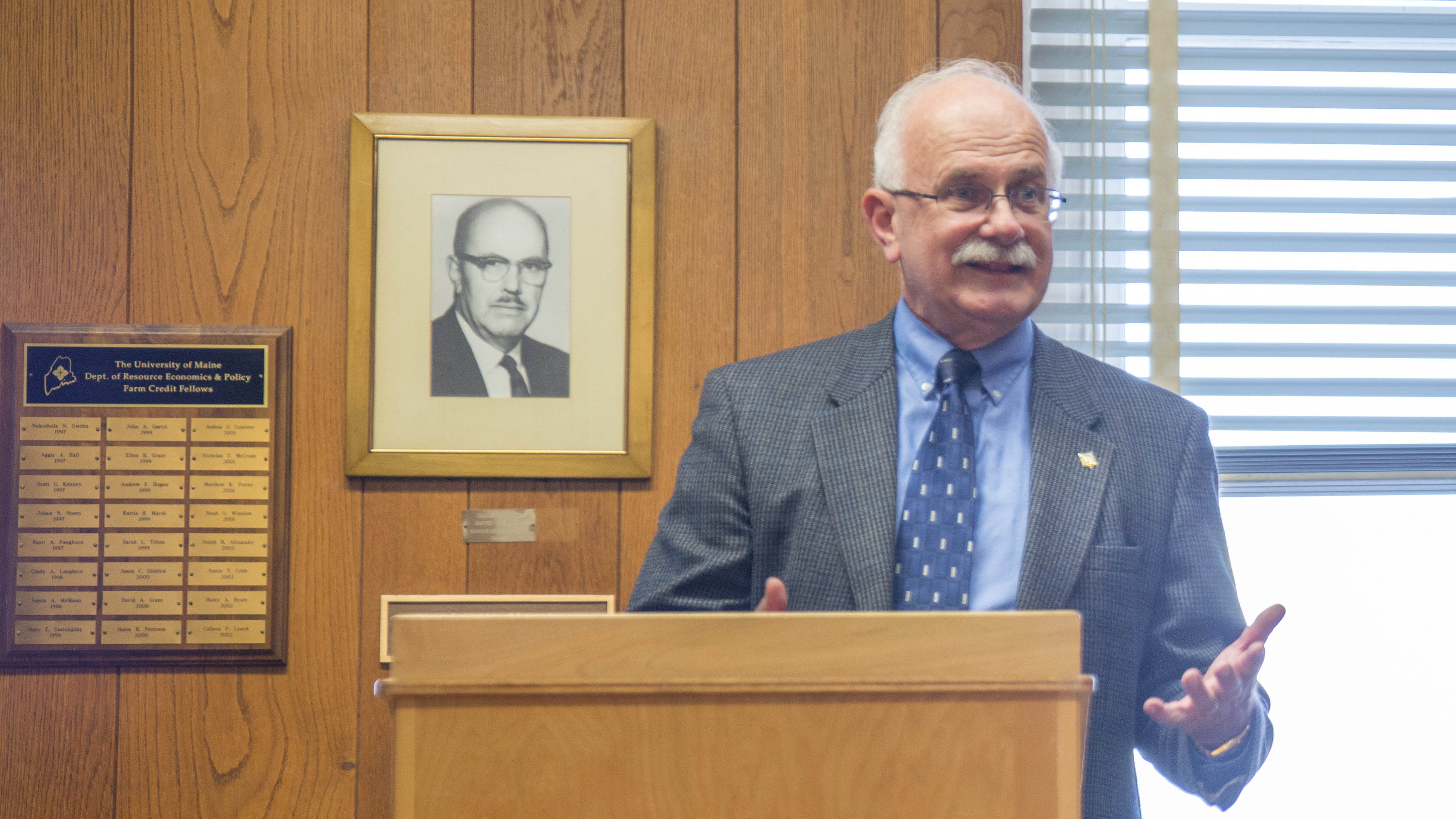 Happy retirement, Dean Ashworth!
Ed Ashworth gets his kicks out of other peoples' success.
That passion is clear in the legacy he will leave behind when he steps off the UMaine campus at the end of September as the dean of UMaine's College of Natural Sciences Forestry and Agriculture & director of the Maine Agricultural and Forestry Experiment Station for the last time.
"During my five years here, I have been struck repeatedly by Ed's integrity, his selflessness, his commitment to UMaine and the college as well as his authentic concern and compassion for all students, his colleagues, alumni and community members," said Elizabeth Erickson, director of philanthropy for the University of Maine Foundation.
Ashworth came to UMaine ten years ago when he left his position as head of the Department of Horticulture and Landscape Architecture at Purdue University to assume his current role.
"When you are a faculty member you focus on your classes and research. As a department head I was able to look at how the overall curriculum was constructed to meet students' needs. Coming to Maine gave me a chance to look at higher education and research in an even broader perspective," Ashworth said.
Under his tenure, the college grew substantially despite fiscal challenges. This fall, the student population in the College of Natural Sciences, Forestry, and Agriculture is nearly twice what it was when he arrived.
"I am proud that we were able to retain quality programs, faculty and staffing through difficult budgetary times. We enjoy a reputation as a good place to work and study, and I think that is largely thanks to the first-rate hands-on education we offer our students at an affordable price," Ashworth said.
In addition to enrollment growth, the college incorporated three additional academic units into its structure under Ashworth's leadership. The new additions – nursing, social work, and communication sciences and disorders – continue to be viable and successful, which Ashworth cites as another point of pride.
The college also experienced growth in other areas – especially its relationship with its alumni and friends.
"I'm proud of the enhancements we made to recognize the college's outstanding community of donors, faculty and students at our annual scholarship banquet, which ultimately benefits our students," Ashworth said.
Many of the awards mentioned at the event now carry the names of benefactors who made these scholarships possible.
"I believe wholeheartedly that a significant portion of the college's success in bringing in new and renewed donations is attributable to Ed's hard work, his openness to new revenue sources, his creativity in finding ways for a gift to work both for the donor and for UMaine without compromising either," said Erickson.
That growth under Ashworth's leadership applied to all facets of the college's work.
"The college, by many measures, is on an upward trajectory and I believe the importance of the college's teaching and research programs have never been greater to Maine and UMaine. It is a credit to Dean Ashworth's leadership and the hard work of the faculty, staff and students," said Frederick Servello, associate dean for research in the college and associate director of the Maine Agricultural and Forest Experiment Station
"My hope is to have a leadership transition that will maintain this positive momentum."
Servello, a member of the UMaine community for 27 years, will serve a nine-month appointment as interim dean of the College of Natural Sciences, Forestry, and Agriculture, and interim director of the Maine Agricultural and Forest Experiment Station, following Ashworth's retirement. A national search for dean and Experiment Station director will begin this fall.
"I hope for the continued success of the college and look forward to watching people who joined the college while I was here succeed – that's particularly gratifying," said Ashworth.
A fund will be established in honor of Edward and Sharon Ashworth to commemorate his legacy of leadership and their joint commitment to excellence and education. For more information, contact Elizabeth Erickson at elizabeth.erickson@maine.edu or 207-581-1145.
This story ran in the October 2016 edition of the MAINE Alumni Magazine. Explore the complete issue online.