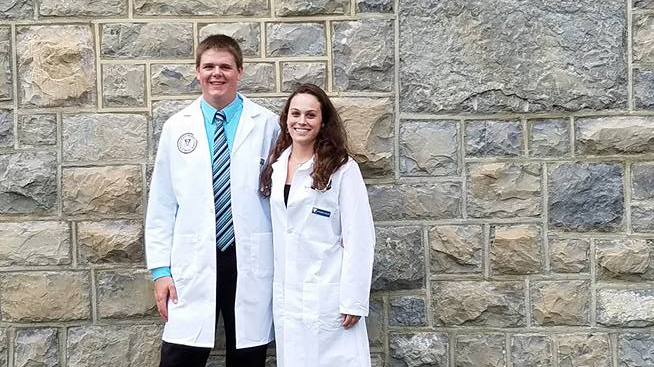 Alumni spolight: Kate Pouliot and Jeffrey L. Vigue Jr. check in from veterinary school at Virginia Tech
Kate Pouliot and Jeffrey L. Vigue Jr. report on how studying animal and veterinary sciences at UMaine prepared them for veterinary school. The class of '16 graduates from the School of Food and Agriculture reached out to their UMaine mentors this fall.
Jeffrey L. Vigue Jr.
I just wanted to drop a note to check in and let you know how stuff in going down here in Virginia. First off, I owe all of you a major thank you. You are doing an incredible job setting us up for success. Kate and I feel so much better prepared than a majority of the others in the class, including the Tech folks. In fact, we just finished our normal animal unit which included reproduction, anatomy, and nutrition among other topics. Our knowledge of nutrition and the associated structures in lecture and lab far surpassed our classmates and the professors definitely noticed. Another standout feature the UMaine folks possess is our ability to handle animals and just our exposure in general. A large chunk of our class has never seen a cow before let alone had to work with one. Thank you all for setting us up in the best possible way. We are working hard every day to make a name for UMaine students down here in Virginia.
Kate Pouliot
The best part of my experience at UMaine was undoubtedly the people and the animals with which I had the opportunity to work during my four years. The faculty at UMaine are exceptional, especially Dr. Jim Weber, who goes to extraordinary extents to provide a wonderful learning environment for students. During my junior year, I was fortunate enough to assist Dr. Weber with founding the Ewe-Maine Icelandic Sheep Club, which reintroduced sheep to the University of Maine's J.F. Witter Teaching and Research Center. The sheep were donated by Elaine Clark of Frelsi Farm Icelandics in Limerick, Maine, and through this incredibly generous donation and Dr. Weber's hard work, the students are able to get first-hand experience with managing a productive sheep herd. I served as Vice President of the club during my junior year and President during my senior year, and I learned so much about myself and about animal husbandry through organizing club meetings, daily feedings, lambing season, and barn chores. I felt confident that we were providing exceptional care for the sheep, and getting to know their individual personalities and watching them learn to trust us was one of the most rewarding experiences of my college career. During my senior year, Dr. Weber was also my advisor on my Honors Thesis project, which gave me the opportunity to study management strategies for controlling parasites in sheep. This year, that research project and my hands-on experience with the sheep has also helped me further my veterinary goals as well. After a casual conversation with one of my professors at Virginia-Maryland about my experience with UMaine's flock, I was recently offered a part-time position with a parasitologist at the vet school, where I will be assisting with parasitology research and collecting samples from sheep. I can't wait to build upon my knowledge from UMaine and use it to advance our scientific knowledge in the veterinary profession, all while I am still in vet school. It is a wonderful opportunity that wouldn't have been possible without Dr. Weber and the Icelandic sheep program at UMaine.