Tick Talk – My Summer at the University of Maine with REU ANEW
By Shayla Miller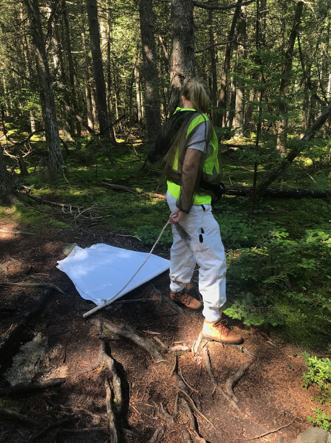 Hello!  I am Shayla Miller, a rising junior at Southwestern Oklahoma State University in Weatherford, Oklahoma, majoring in biological sciences with a minor in chemistry. Areas of research I am interested in include human health, medical entomology, and ecology.  After graduation, I plan to attend medical school.
I was particularly interested in this One Health REU because it combined many of my interests and allowed me to study in a field where I had minimal exposure. I was excited to work with other students who had similar interests. My mentors, Dr. Allison Gardner and Masters student, Sara McBride, have been wonderful to work with throughout this program. Dr. Gardner's lab explores the ecology of infectious diseases that are transmitted to wildlife and humans by vectors. A combination of lab and field work, in addition to molecular, geographic, and quantitative tools, allows her to answer a wide range of questions related to disease ecology. This program has been able to give me an experience I would never be able to get anywhere else.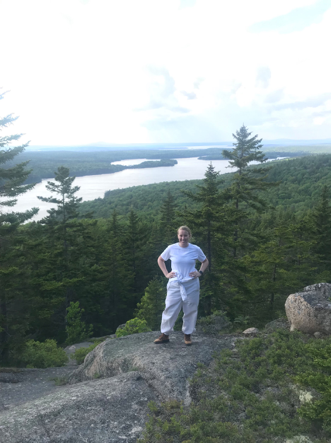 My research this summer focuses on determining the relationship between tick abundance and trail proximity in Acadia National Park (ANP). Blacklegged ticks, also known as the deer tick, are responsible for transmitting Lyme disease-causing bacteria to humans. The abundance of the black-legged tick has increased over the past 30 years in ANP which may lead to a higher risk for transmission of Lyme disease to visitors. To create a risk assessment for park visitors, we are assessing the abundance of ticks on and off trails used by visitors. We survey for ticks at these sites by dragging a corduroy cloth across trail edges.  One goal of this project is to identify if high, medium, and low use trails pose different levels of risk. My project has exposed me to many new methods and new areas of biology like tick identification. I am so thankful to be able to do research in beautiful Acadia and work with a great team.
This experience so far has increased my ability to not only conduct research but made me a better scientist overall. The faculty and other REU students have been so supportive and have made this program so much more enjoyable. I will never forget the wonderful memories made this summer.
This blog post was authored by a student participating in the Research Experience for Undergraduates – Accelerating New Environmental Workskills program, which is led by faculty in the Initiative for One Health and the Environmental and funded by the National Science Foundation.  Information in this post does not represent the University of Maine or its faculty.