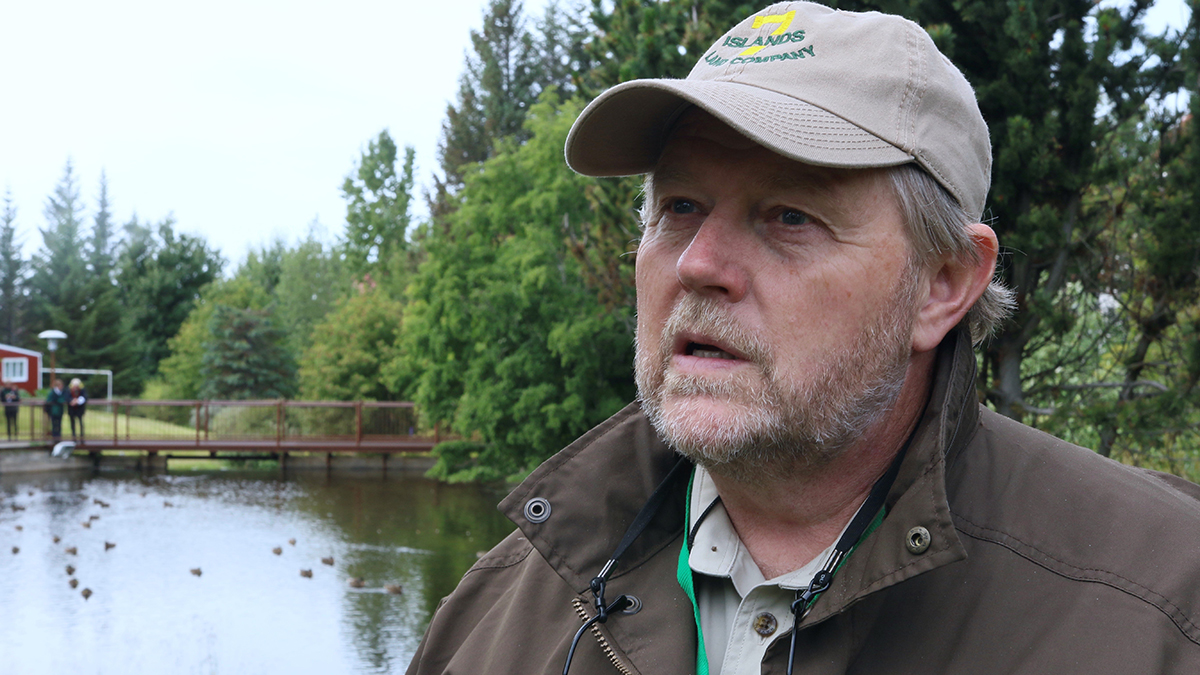 Forestry alum Thröstur Eysteinsson on transforming Iceland's landscapes
Thröstur Eysteinsson '90 (M.S.), '92 (Ph.D.) spent his childhood exploring Iceland's bountiful natural world. His grandfathers were active volunteers in Iceland's forestry societies, which he later joined while working as a high school science teacher. As he learned more about the history of forestry in Iceland, his interest grew, so much so that he quit his job and came to the University of Maine to study forestry.
Today, as Director of the Icelandic Forest Service, he heads the agency that will see his country's forest cover increase by as much as eight percent over the next 100 years.  
How did your UMaine experience influence your life and help you reach your goals?
Living in Maine for five years was, all in all, a very rewarding experience and enriched my life greatly. I learned what real cold feels like, because it never gets that cold in Iceland, and I now know that you can actually get theah from heah. The forestry education I received at UMaine allowed me to start working in the small forest sector in Iceland, where I have been able to contribute in many ways over the years, which was my goal. My education has also allowed me to participate in international research projects with colleagues from the other Nordic countries and on a pan-European level, all of which has been very rewarding.
Did you work closely with a professor or mentor who made your UMaine experience better?
I was lucky to get to work closely with Michael Greenwood. When I first arrived, I had rather unclear ideas about my emphasis within forestry. Mike had a project on larch as a fast-growing alternative in Maine forestry and larch is important in Icelandic forestry, as it happens. He offered me a research assistantship and I accepted. He was a very good mentor. His experience in the private sector gave him a very pragmatic attitude to forestry, which I greatly appreciated and have tried to emulate ever since.
What was your most memorable UMaine moment?
Picking one moment out of many is tough. The one I have most often told people about is a Maine woods moment rather than a UMaine moment. It happened when I was heading back to campus after having been planting a field trial in Johnson Mountain Township, not far from the Quebec border. It was dusk and I knew about the seriousness of moose crossing signs, what with the telltale treadmarks on the asphalt and such. So I slowed down a bit when I came to one and looked for moose, or is it meese? Then I saw one standing still by the side of the road and slowed down even more. As I was almost even with it and driving at about 20 mph, the moose finally decided to actually cross the road. I hit the brakes as the moose stepped onto the road and was almost stopped when it walked into the side of the car. That was the time that my car was run over by a moose. I am happy to add that neither moose nor car was injured.
Tell me a bit about the forests you oversee and what they mean for Iceland.
Iceland is treeless for the most part, having lost its original forest and woodland cover due to unsustainable land use; forest clearing followed by a thousand years of sheep grazing. Efforts to save the last of the native birch woodland remnants began around 1900 and afforestation by planting, mostly using exotic species, began around 1950. The native birch is usually scrubby and even the best forests are not very productive, but we have found species such as Sitka spruce, lodgepole pine and Siberian larch that grow as well here as production forests do at similar latitudes in Scandinavia, Russia and North America.
The National Forests, overseen by the Icelandic Forest Service, are a mix of native forests and woodlands and cultivated forests of various species. They are mostly managed on a multiple-use basis, with emphasis on conservation aspects, recreation and/or production. The Forest Service also offers grants for afforestation on farms, where the main aim is to develop a productive forest resource.
Only about 2% of Iceland is wooded and only ¼ of that (roughly 120,000 acres) is productive forest. Most of the resource is young, having been planted after 1990, so there is very little final felling going on. Nevertheless, the forest area increases each year, the trees are growing well and a small forest industry using wood from thinnings is beginning to form.
I read that Iceland started afforestation approximately 100 years ago. If your vision for the country's forests come to fruition, what will it look like in another 100?
Two things are ongoing that give cause for optimism that the extent and growth of forests in Iceland will increase during the next century, perhaps greatly.
The first is global warming (some good comes of even the worst things). The Icelandic government has recently set forth an ambitious program to make Iceland carbon neutral by 2040. Included in that is greatly increased carbon sequestration through afforestation and funding has already started to increase. On the other hand, global warming will not be much affected by what Iceland does alone. Others must also act. A predicted increase in mean annual temperature of 2-4 °C will mean that more tree species will be viable in forestry, the forests will be more productive and more land will be available for afforestation due to the tree line moving upward in elevation. We will be growing Douglas-Fir, European oak and beech and even giant Sequoia in the lowlands of Iceland and larch, pine and spruce at higher elevations.
The second is that a gradual change in land use is taking place, moving from sheep farming with free-range grazing to more varied and intensive agriculture. Reduction of sheep grazing will allow trees, (mainly the native birch) to naturally regenerate over large areas.
In 100 years, naturally regenerated forest and woodlands could cover at least 10% of Iceland and will be spreading, especially at higher elevations. Cultivated forests of several species will form a significant part of land use on farms and generate considerable income in rural areas. Forests for recreation and shelter will surround most towns and villages, making them much more livable than before.
Icelandic forests will sequester more CO2 than Icelanders release, making Iceland the first net carbon sink in the world and helping to slow global warming so that we won´t have to start thinking about tropical tree species. None of this is unrealistic.
What advice do you have for aspiring foresters?
Forestry is a very rewarding profession if you are willing to put in the work. You will get rich in many ways but not necessarily financially. Keep in mind that you will mainly be working with people, not trees. (If you want to work in the forest, learn how to operate heavy machinery.) In your work with people, you will mostly be trying to increase awareness. People skills are extremely important.  Also, learn what sustainability really means and make it part of your thinking. It is a concept invented by foresters and we base our profession on it. Others have recently borrowed it but we are the experts.
Is there anything else you would like to share with the UMaine community?
Over the years, I have had the opportunity to travel to many places for conferences, professional visits and just on vacation. Becoming familiar with forestry in Maine was great. Visiting foresters in Siberia was eye-opening. A conference in Italy was a huge learning experience about very old forestry traditions. I have met colleagues from many countries and become friends with many of them. This is important to an Icelandic forester since there are so few of us. But it is also important for foresters in large countries to meet new people and get new perspectives. I seldom meet American foresters at conferences outside the US. This is a shame because American forestry has a lot to give and there is also a lot it can learn from others. Nobody has all the answers.