Jesse Walters: Edith M. Patch Outstanding Ph.D. Student
The Edith M. Patch Outstanding Ph.D. Award recognizes a Ph.D. student with a distinguished record in areas that Dr. Edith M. Patch, a pioneering entomologist, excelled in during her long and important career at UMaine.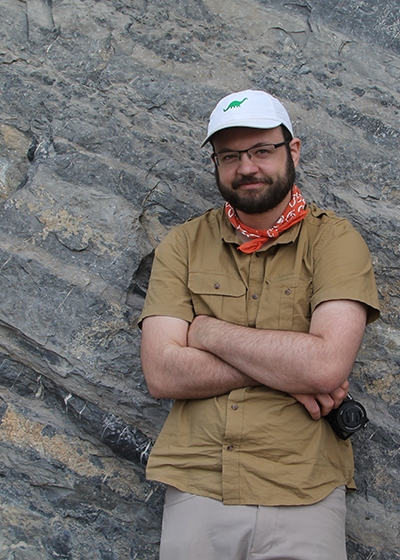 Jesse Walters is the Edith M. Patch Outstanding Ph.D. Student in the College of Natural Sciences, Forestry, and Agriculture. He is pursuing a Ph.D. in earth science. His advisor is Alicia Cruz-Uribe, Edward Sturgis Grew Assistant Professor of Petrology and Mineralogy in the School of Earth and Climate Sciences.
Walters' research productivity and commitment to public service earned him a Fullbright Doctoral Fellowship and Chase Distinguished Research Assistantship. He has published two papers and has another under review, and has presented his research at six conferences. He has also chaired sessions at national and international meetings.
Walters is an active proponent of science outreach, and has volunteered his time and expertise at elementary schools, the Maine Upward Bound Math and Science Program, and the Maine Science Olympiad. He was instrumental in developing a student mentorship program in the School of Earth and Climate Sciences. He has also served as a senator in the Graduate Student Government, a graduate representative to faculty, and the coordinator of his school's visiting speaker program.
How do you envision your research might someday change the world?
My research focuses on quantifying long-term changes in Earth's chemistry through plate tectonics. Plate tectonics link Earth's surface and interior geochemical cycles and may be responsible for a diverse range of phenomena, such as formation of a habitable atmosphere, volcanic activity, economic mineral diversity, and perhaps supplying an environment for early life to flourish. In fact, plate tectonics is a phenomenon unique to Earth in our solar system.
I hope that my career in scientific research will change the way we view the importance of the geochemical evolution of the solid Earth to its habitability. I believe that my excellent training and hands-on laboratory and field experience in the School of Earth and Climate Science at the University of Maine has well prepared me to begin my professional career in scientific research.