Praveen Sappati: Norris Charles Clements Graduate Student Award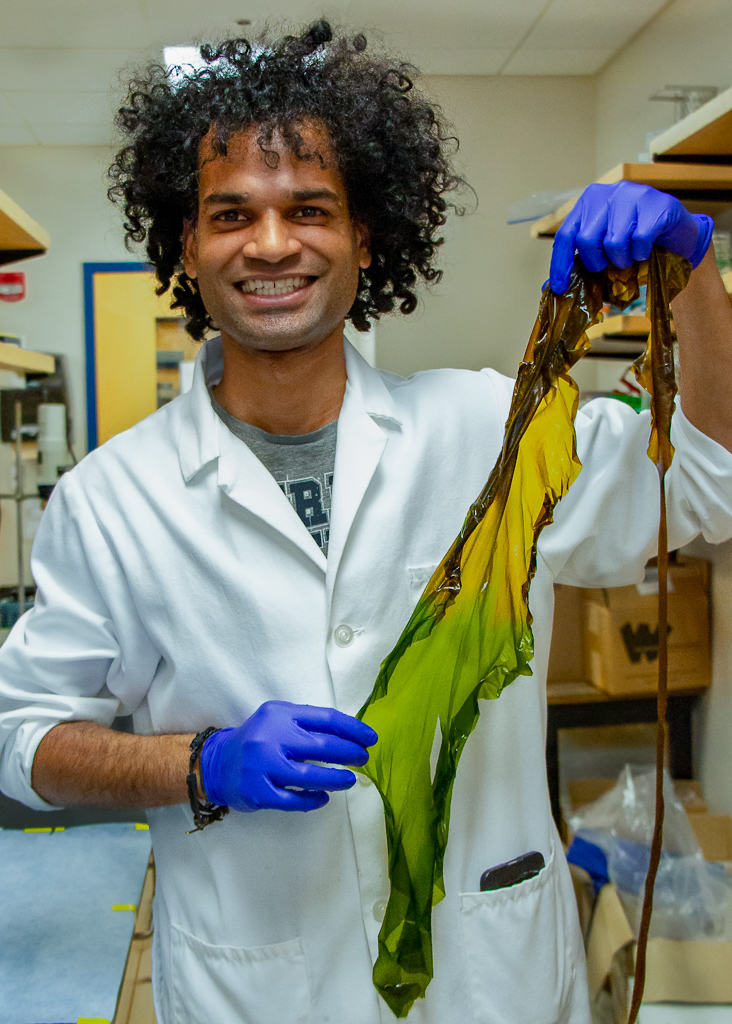 The Norris Charles Clements Graduate Student Award was established to recognize an outstanding graduate student in agricultural sciences, whose research has the potential to significantly shape the future of Maine agriculture.  
Praveen Sappati is the recipient of the College of Natural Sciences, Forestry, and Agriculture's Norris Charles Clements Graduate Student Award. He is pursuing a Ph.D. in food and nutrition sciences. His advisors are Balunkeswar Nayak, associate professor of food processing in the School of Food and Agriculture, and Peter VanWalsum, associate professor in the Department of Chemical and Biomedical Engineering.
From the outset of his time at UMaine, Sappati engaged with stakeholders in Maine's aquaculture industry. He garnered local industry partnerships and regularly disseminated his research with seaweed farmers at regional and international conferences.
Sappati's research has been featured in premier journals in his field, as first author on three manuscripts. He currently has an additional three under review. His advisor, Associate Professor Nayak, describes Sappati's teaching assistance in food science and engineering courses as phenomenal.
Sappati also mentored five undergraduate students who later presented their research to Maine's legislature, was an active member of the Food Science Club, and won several food science and technology competitions while representing UMaine.
How do you envision your research might someday change the world?

Throughout my life, I always believed, "We make a living by what we get. We make a life by what we give." I wish to serve mankind by contributing my share towards research that could propel technology to newer horizons.
As a graduate student in the School of Food and Agriculture, UMaine has been incredibly rewarding both personally and professionally. My work on seaweed has led to research publications, scientific presentations at local and international level conferences, industry partners, interdepartmental collaboration, undergraduate student mentorship and awarded grant money.
I believe my work will have a meaningful impact on seaweed farming and promote consumption through more sustainable pathways. Working in collaboration with seaweed partners and other labs including Advanced Manufacturing Center, Advanced Structures and Composite Center and people from different cultures, and backgrounds helped me to grow as a skilled all-around collaborative researcher.
After completing my Ph.D. and post-doctoral appointment, I plan to pursue a full-time tenure-track professor position to further investigate and develop sustainable post-harvest processing methods and systems to improve the shelf-life of food products to feed the ever-increasing population of the world.