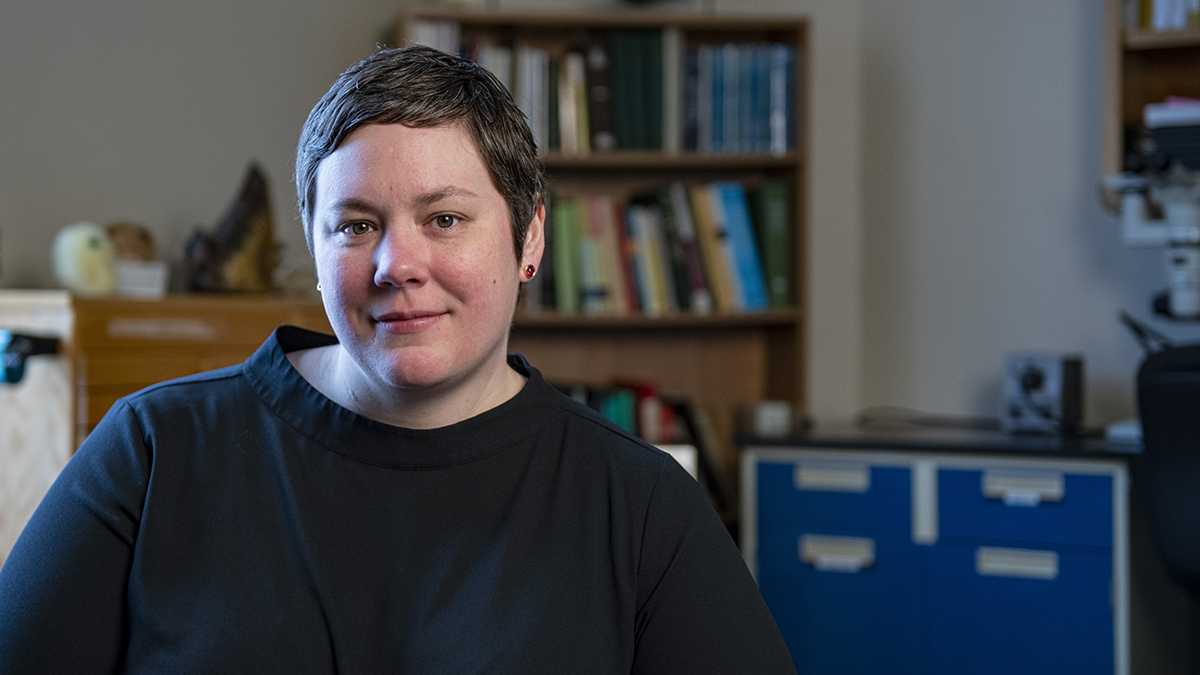 Gill named 2020 recipient of Outstanding Public Service Award
The Outstanding Public Service Award honors faculty who make significant contributions to the University of Maine's mission of service—disseminating university resources into the community. It is among the most prestigious faculty awards bestowed by the College of Natural Sciences, Forestry, and Agriculture.
With every tweet, podcast, blog post and press interview, Jacquelyn Gill breaks down the ivory towers of higher education to connect people with science.
The associate professor of terrestrial paleoecology in the School of Biology and Ecology and Climate Change Institute's ability to make science captivating has attracted over 89,000 followers to her Twitter profile—a following that places her among the top one percent of scientists on the social media platform. Gill's blog, Contemplative Mammoth, draws 120,000 views per year and her podcast, Warm Regards, averages nearly 10,000 downloads per episode.
Gill uses these sizable communication platforms to ignite enthusiasm for her fields of paleoecology and paleoclimate, dispense truth amid the misinformation that abounds on the internet, and advocate for a more open and inclusive culture in the science fields.
"Her deft blending of innovative social media platforms with use of more traditional media has made her internationally recognized as a science communicator and advocate for a more diverse science workforce," said Brian McGill, a colleague who nominated her for the award.
Offline, Gill's science communication savvy is leading change worldwide. As co-founder and organizer of the March for Science, Gill's movement swelled to a global event that included one million demonstrators at more than 600 locations. Her research has been featured by highly-regarded national and international media outlets and on three documentary programs. Opinion editorials Gill penned have been published in Scientific American and the Washington Post.
She is frequently invited to share her expertise in science communication and enhancing gender diversity in the STEM fields by organizations including the National Science Foundation, the State Department and the American Association for the Advancement of Science. She has also taken the stage as keynote speaker at public outreach events nationwide.
Gill recently served as Vice President of Communications and Public Affairs for the International Biogeography Society. She is currently a member-at-large of the Ecological Society of America's Governing Board and on the Board of Directors for the South Atlantic Environmental Research Institute.