Asking questions and taking emails; ecotourism at Acadia National Park
Written by Natalie Siwek, OneHealth REU program 2022 participant
Hello! My name is Natalie Siwek and I am a third year undergraduate student at Rochester Institute of Technology. The One Health program emphasizes the importance in understanding the intersections between environmental and human health, which encapsulates my interest in these fields of study. By diving into the study of ecotourism, I have realized that there are many important factors that work hand-in-hand in protecting visitors and the environment. Working alongside my mentors Dr. Sandra De Urioste-Stone and Dr. Sarah Jackson, I have set out to identify how out-of-state visitors' travel to Acadia National Park has been impacted by the COVID-19 pandemic.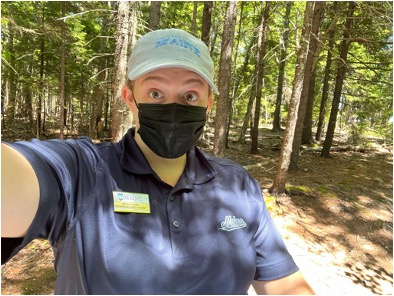 In the early days of my own pandemic experience, I relied on outdoor activities to stay connected to my friends and to stay sane with my family. The COVID-19 pandemic is still influencing individuals to choose outdoor recreation, and my lab has set out to quantify this. Once a week, the lab heads to Acadia National Park to conduct an in-person survey gauging the visitor risk assessment of COVID-19 and how those factors may influence their travels to Acadia. At the end of the in-person component, we ask them to follow up online with us to answer some more specific questions (for which we ask for their email to send some reminders). By surveying almost 1,000 individuals in the first month of our study, we are on our way to collecting relevant data about the concerns weighing on tourists.
Using data collected from our 2022 survey and separate data collected on tourism to Acadia in 2018-2021, I will be using Geographic Information Systems (GIS) to map how out-of-state visitors' opinions and actions surrounding COVID-19 have evolved over time and if this carries over to what activities visitors engage in at Acadia.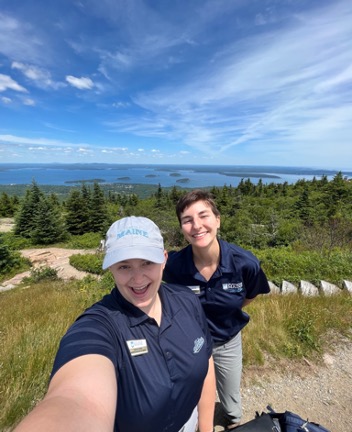 By investigating visitor engagement, I will be able to form a report for National Park Service staff at Acadia with recommendations on visitor engagement resources. This could look like adding additional online resources for new visitors, providing easier access to park staff for questions, further COVID-19 measures, or more information about the importance of conservation in the park. I am looking forward to conducting my analysis and understanding how some, or all of these recommendations could be implemented.
I am excited to spend some time contributing to my own project the next few weeks, but a big shout-out is deserved to graduate students Lucy Martin and Gab Venne, undergraduate student Molly Bogner, and fellow REU student Augusta Stockman, for making the sampling trips to Acadia so enjoyable! I am grateful to work in a lab with such kind, funny, strong, and independent women.
Outside of work, I have been enjoying all that Maine has to offer! I have taken a couple trips to Acadia (for leisure), a trip to Portland, and explored the surrounding areas of University of Maine. I am so grateful for the everlasting friendships I have made through this program and I am looking forward to making the most of my last few weeks here.