Close to home: COVID-19 and outdoor recreation in Maine
Written by Augusta Stockman, OneHealth REU program 2022 participant
Get in the cah, we're goin' to Bah Hahbah! As this year's REU ANEW cohort's resident Mainer, I feel obligated to throw in some real Maine talk from time to time. I do actually go to Bar Harbor for research, though. More on that later. My name is Augusta Stockman and I'm from Camden, ME and will be a senior at Vassar College in Poughkeepsie, NY in the fall. I'm a sociology major with a Hispanic studies minor, and the One Health program caught my eye as an opportunity to develop my social science skills in a predominantly natural science space. It has been funny at times feeling a little out of place, as Vassar's open curriculum means my only quantitative class in the past three years has been earth science; some conversations here about microbes and genetic sequencing leave me scratching my head. The beauty of One Health, though, is that it embraces the interdisciplinary spirit and immerses you in new information and perspectives.
Working under Dr. Sandra De Urioste-Stone, my independent project is a content analysis of Maine newspaper articles from the past two and a half years that discuss both COVID-19 and outdoor recreation. The goal is to understand how the messaging around the intersection of these topics has changed over the course of the pandemic; what has the Maine media had to say about people getting outside for leisure, spanning from the early times of uncertainty and peak restrictions, to phases of reopening, to the present? While my analysis is still in its preliminary stages, I am excited to see what it will reveal about the information that has been available to the public. Understanding the messaging put out by the media can offer insight to how outdoor recreationists in Maine have been perceiving risk and how park services, for example, might better cater to their needs going forward.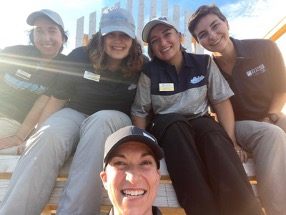 I am lucky to also be part of a larger team under Dr. De Urioste-Stone and Dr. Sarah Jackson doing survey research in Acadia National Park for a graduate student's thesis. Once a week we drive to the Park, station ourselves at predetermined tourist sites, and systematically ask visitors to respond to our brief in-person survey and to a more in-depth online follow-up. The questions target their risk perceptions and experiences in Acadia during the ongoing pandemic. As an introvert and admitted people-pleaser, intercepting tourists has been challenging, but having such a supportive team (shoutout Sarah, Lucy, Gab, Natalie, and Molly) to offer advice, troubleshoot, and celebrate the little victories in the car and back in the lab has been invaluable.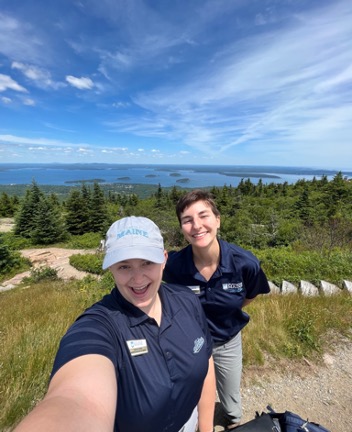 As an avid outdoor recreationist myself– I run cross country and track, and often spend my free time hiking and kayaking– the intersecting topics of both of these projects quite literally hit close to home. I have fond memories from a summer camp that brings together high school runners from across the state to stay at a campground near Acadia and drive into the Park each morning to run the carriage roads. During quarantine, the silver lining of having my freshman year of college grind to a halt was getting outside with my family. Studying the newspaper articles and being back at Acadia has renewed my gratitude and affection for Maine's natural beauty. Growing up just ninety minutes south of Orono, I've always (perhaps begrudgingly) known Maine was beautiful but have often been too caught up in my plans to escape my small town and see other parts of the world to really appreciate it. This summer is certainly making me reflect on my relationship with my home and my potential contributions to it through research.