One shell of a conservation project
Written by Dartagnan Mullins, OneHealth REU program 2022 participant
Hello! My name is Dartagnan Mullins and I am a rising senior studying biology at the University of North Carolina Asheville. Growing up in Washington State, I found my passion for studying animals at a young age as I explored the wilderness in my own backyard. Now in college, I have honed my interests in studying and teaching Ecology and Evolution with a focus on Herpetology. In the summer of 2021, I led the nature program at Camp Rockmont, teaching young campers the beauties and intricacies of the natural world using wild snakes, salamanders, and many turtles. That experience placed me on my current career path, working toward a Ph.D. and then a Professor of Biology. Now with this amazing opportunity to work with the REU ANEW program, I am able to gain more field experience and conduct research that will have a true impact on the environment in addition to the people (and turtles!) living in it.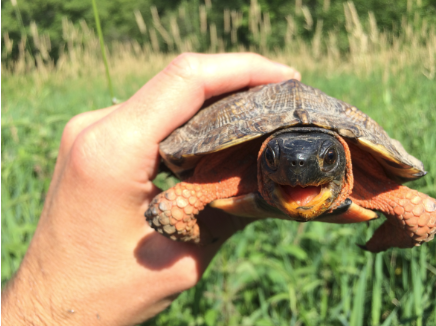 This summer I am working with Dr. Matthew Chatfield and his crew on an ongoing conservation effort for the endangered wood turtle. These turtles were first considered endangered in the mid-1970s and have been steadily declining since then. There are many biotic and abiotic factors that have contributed to lower wood turtle numbers. Long generation times and specific nesting conditions make wood turtles much more susceptible to both habitat loss and predation due to urbanization as wild spaces decrease and predators are pushed closer to their prey. The conservation of turtle species is important because of the various ecological roles that they play. The most immediate role they play is in controlling aquatic vegetation. Without turtles, the world's ponds, lakes, and streams would quickly become overrun with vegetation, therefore, shattering entire communities of animals and people. Because of this, Dr. Chatfield began a conservation project in 2016 to protect and learn more about these wood turtles, currently focusing on population demographics in Central Maine and nesting characteristics.
My project focuses on the predation aspect of wood turtle conservation and it has two main parts. First, my partner and I conduct weekly surveys recording animal tracks and scat at various stream locations. These data will help us to quantify the abundance and variety of wood turtle predators in the area such as raccoons, skunks, and coyotes. The second part of my project includes looking at strategically placed game cameras to observe nest predation events and gather even more information on how predators find and consume the delicate offspring. The data from these camera images, in conjunction with the stream surveys, will spark the discussion toward anti-predator measures in order to give these wood turtles a fighting chance at survival.
In addition to working with turtles every day, this REU program has given me so many amazing opportunities for both my professional and personal growth. So far, I have learned so much about what goes into field research and conducting real science, and even feel much better about applying to graduate school after hearing testimonials in our professional development seminars. Finally, I have been given the chance to explore the captivating beauty of Maine along with new friends, all thanks to this program.